If Halifax had a Pleasantville, Bedford would be it. This neighbourhood's retains its small town vibes, with bright green parks, a sparkling waterfront, diverse dining options and businesses that stay strong for decades.
Dip into Nature's Cove
Don't zip past Nature's Cove (364 Bedford Highway) when you're cruising the Bedford Highway with China Town on the brain—this is a truly inspired spot for grocery-getting. The local and organic focussed store is the brainchild of Byron Brown, who became passionate about good, healthy food after the loss of a loved one lead him to explore naturopathic medicine. For four years his store has been coming into its own, now stocking fresh, local, free-range and grass-fed meats, spray-free local vegetables, organic health and beauty supplies and cleaning products, local baked goods and takeaway meals. Plus a massive gluten-free section. To add to the goodness indoors, last weekend Nature's Cove launched its outdoor farmers' market, bringing in herbs and veggies from Port Williams' Olde Furrow Farm Thursdays and Fridays 3-7pm, and Saturdays 9am-3pm. Note to local farmers and businesses—the market is looking to add more vendors to the mix, you too could spend three days a week gazing over the sparkling Basin! naturescove.ca
Sunnyside up and up
Bedford's shopping star Sunnyside Mall (1595 Bedford Highway) has alway kind of ruled. Between the OG Pete's location, Freak Lunchbox, Finbar's and il Mercato, we've always found many (meal-related) reasons to make a pitstop here. But this summer Sunnyside has shown its love for local in a big way. First, the sleek and stylish Statement made the bold move from its longtime Agricola Street stomping grounds to the mall, taking over a big, bright space that I kind of wish I lived in. One month in and owner Roger Bouthillier is pleased as punch. Fellow entrepreneurial endeavors Limoncello Lifestyle, and Wolfville-based Boso Bamboo Boutique have also opened Bedford locations in the mall, and this fall will bring a new Sunnyside location for Lisa Drader-Murphy's much-loved Halifax waterfront boutique Turbine in the strip.
Pet Valu's top dog
As much as a panting pup on a hot day is worth your baby talk and belly-rubs, it's also worth your attention. "They run themselves crazy," says owner of Pet Valu (75 Peakview Way) Wilf Clarke. "They aren't as good as humans are at going 'Gee, I should slow down.'" His three-year-old, one-stop pet shop not only handles pet food, local-made treats, cleaning and care supplies, but accessories galore, too. That includes this mini- life jacket (starting at $39.99), perfect for when your sweaty pooch could use a cooldown but isn't a strong swimmer. Also, SO CUTE.
Izzy's Bagel Co. (1180 Bedford Highway) makes about 8,000 preservative- and additive-free bagels—in 17 delish flavours—in house each week. Extra cream cheese, please.
Go West, young shopper
Um, has anyone else noticed Bedford West is booming? As the neighbourhoods surrounding Larry Uteck Boulevard expand outward, the local businesses in the area bloom. It's pretty amazing to see an area explode so quickly. Residents of this area soon won't ever need to venture elsewhere, with grocery stores, pet care (ie: Pet Valu, above) fitness options like Shanti Hot Yoga (620 Nine Mile Circle) and Moksha Yoga (27 Larry Uteck), Grade A eats like Morris East (620 Nine Mile Circle), caffeine fixes, dentists, physiotherapists and spas (Spa Chappelle, 65 Dellridge Lane) stuff for the kiddies (Fiddleheads, 27 Larry Uteck). Plus with froyo (both CherryBerry, 81 Peakview Way AND Goji's, 620 Nine Mile Circle) and burgers (PEI's BOOMburger opening at 27 Larry Uteck) in the 'hood it's officially with the times, Halifax- style.
BEDFORD BUCKET LIST : Eight great things for a weekend full of fun and good eatin'

1. Enjoy an old-fashioned drive-in movie at Bedford Baptist Church (158 Rocky Lake Drive): Muppets Most Wanted at dusk on Saturday, June 28. Or hit Sunnyside Mall (1595 Bedford Highway), for Ferris Bueller's Day Off on Sunday, June 29 at 9:30pm.
2. Take a whiff of pure freshness at Farmer Clem's (389 Bedford Highway).
3. Cash in on Thai Ivory Cuisine's (1067 Bedford Highway) sweet lunch and dinner specials.
4. Visit the heart-shaped pond at Hemlock Ravine Park, constructed by Prince Edward, Duke of Kent for his mistress moons ago, and believe that love is a many-splendoured thing.
5.Sun thyself on Resto Urban Dining's (1516 Bedford Highway) rooftop hot spot, with a cold drink and some good company.
6. Visit heritage property Scott Manor House (15 Fort Sackville Road), for a Georgian Tea (and some town crier action) this Saturday, June 28 from 4-8pm.
7. Check out I Love Pho (746 Bedford Highway)—it opened this week!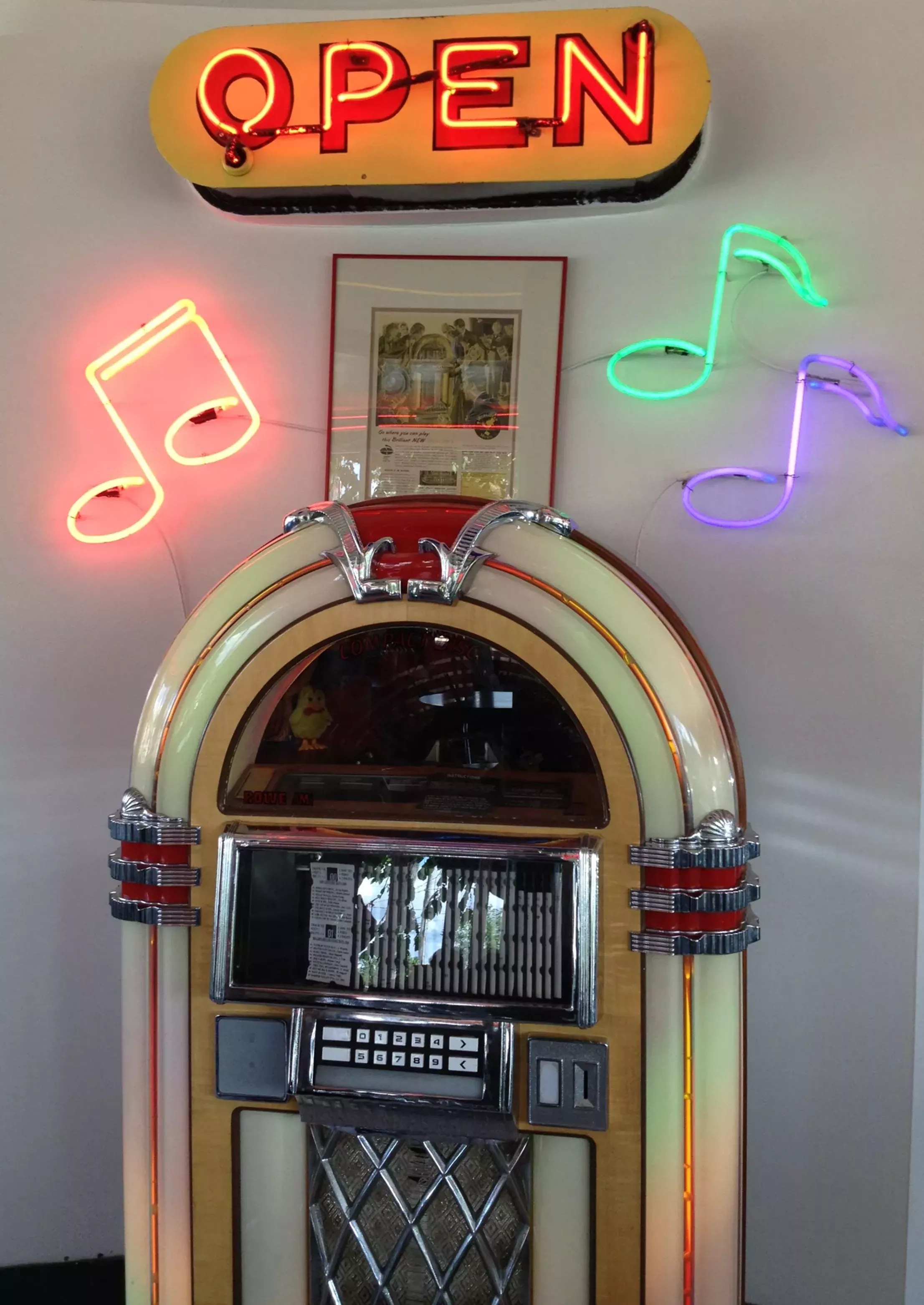 8. Blare the curiously loud version of "I Put a Spell on You" from The Chickenburger's (1531 Bedford Highway) jukebox, and while you're at it you might as well grab a shake, the namesake burg and a scoop of ice cream from Chicken Little around back.
Listen up— it's Select Sounds and Taz Records
Music really matters to Bedford, and
Select Sounds
(1475 Bedford Highway) is living proof of that. David Eisener and Michael James have been packing their narrow shop full with new and used vinyl, CDs and DVDs for 20 years, building an awesome collection to hunt through on a Saturday afternoon. "Being an independent or smaller box you can adapt more quickly than a larger chain; you quickly learn what people are looking for," says Eisener. "We have people we've had coming in for 20 years, we've gotten to know their names, their kids that were little are now in university." Though big box music stores have almost entirely disappeared since Select Sounds has existed, people continue to buy music on the regular, and he says the classics—like Zeppelin, Neil Young and Pink Floyd—remain top sellers. "People have always had a certain need to collect, whether it's records, books, bottle caps—most people have this innate desire to accumulate things."
In contrast to Select Sounds' two decades, Taz Records—though an oldtimer on the Halifax retail scene—has just celebrated its Bedford location's (1270 Bedford Highway) first anniversary, and Glen MacCulloch says its been great getting to know the music-nerd community. "The quality of used stuff coming in here is ridiculous, it's beyond what I was hoping for. A lot of stuff we have out here they might not have downtown." Though right now Taz can't keep Jack White's latest, Lazaretto, in stock, MacCulloch echoes Select Sounds' sentiment that the classics are still in high-demand today, especially with younger listeners. "We get 13, 14, 15-year-old kids coming in and buying records, it warms my heart," he says. "There are lots of kids that I've sold them their very first turntable, or record. It's nice to know part of the younger generation doesn't just want to download, and steal music online. They want the real thing."