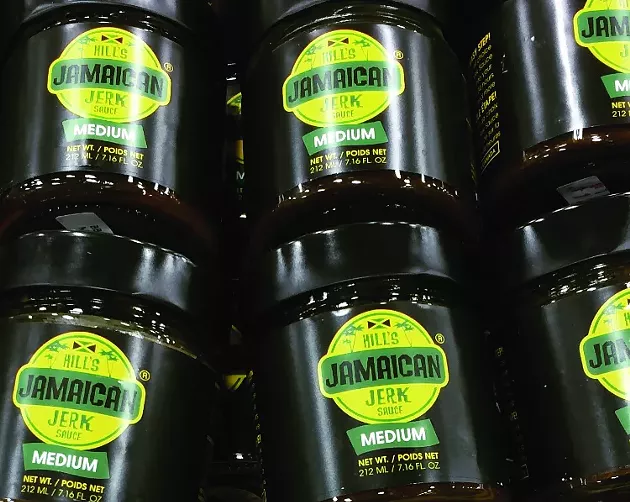 When Paul Hill moved to Halifax in 1994, he missed Montego Bay's food more than its sunshine. With the aromas of jerk chicken and pork a recent memory, he started experimenting with his own sauce recipe, playing with ingredients on a quest to strike the right balance.
"Two years ago I went back to Jamaica with a bunch of friends and we had a pre-Jamaican party. I said 'Guys I'll take care the food—I'll bring some jerk chicken, jerk pork and plantains.' Some of them and never been to Jamaica before so I wanted to introduce them to a little bit of the food," says Hill. "We got there and they said, 'Your jerk chicken is better than what we got at the hotel'." During that trip, he explored the food market, discovering herbs, roots and the most perfect pimento. Then he came home and got back to work, making a few batches before finally arriving on Hill's Jamaican Jerk Sauce.
"It has a really good balance to it, it's not too hot, it's not overpowering," says Hill. "You can still taste all the natural flavours, you can taste the pimento and the scotch bonnet and little hints of all the ingredients in there. It leaves your palate guessing." He bottled it in Mason jars, sharing it with friends via word-of-mouth before finally upping his game with jars and labels. Now he's selling at Pete's Fine Foods, Organic Earth Market, Two Boys Smokehouse and 22 Sobeys locations. Hill's main goal is to spend time in the stores where he's selling, demoing his sauces and engaging with people. "A lot of these people, they've never had it before, or never even heard of it," he says. "Sometimes it's not the jerk sauce we talk about. We talk about Jamaica sometimes, we talk about the weather were having. I love to give people ideas on how to use the sauce...people think cooking is really hard but really it's all about your flavour."