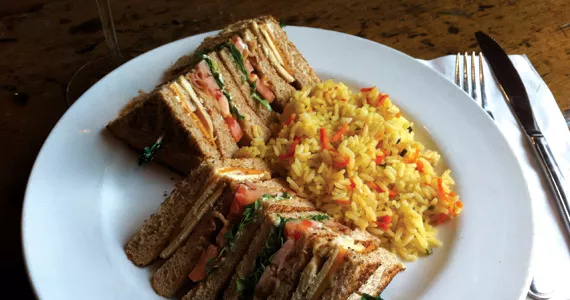 When I arrive at The Hunt Club on Spring Garden, things are pretty quiet. I find a seat at the bar and wait for my gal pal to arrive for our dinner date. She's late; I'm not particularly bothered, though, because The Hunt Club is a unique restaurant/retail shop in Halifax that offers a shopping experience as well as a dining one. Diners can shop as they await their meal, while shoppers can snack as they browse the goods. With one side of the space occupied by clothing racks, the other is filled with various seating arrangements made up of booths and pub-height tables.
Once my pal arrives, we settle into a comfy sofa and decide on some drinks. The cocktail list is comprised of the classics, but we're in the mood for wine, so we order two whites ($7.50). They arrive in impressive glasses, which make the liquid within even more enjoyable to drink.
Looking over the menu, we ask the server for some assistance. She recommends her favourites, but has to check with the kitchen to answer some of our questions. Once well informed, we decide on two appetizers to start---the deep fried pickles ($6) and the jalapeno poppers ($8). While we wait, we take our wine and peruse the racks of clothing, critiquing as though we're the next Anna Wintour.
When our appetizers arrive, we're pleased with our choices, though certain that they came frozen from a box. The jalapeno poppers are stuffed with cream cheese, breaded and served with a ranch dipping sauce. Like most of the general public, I can't find anything wrong with melted cream cheese, so they're gobbled up immediately. The pickles are long spears in a similar coating and are served with a bottled salsa. Neither items are greasy, but have an enjoyable crunch.
Next, we share a clubhouse sandwich ($10) and a small alfresco salad ($5). As a side to the sandwich, our options are fries, rice or mashed potatoes. When we ask if we can substitute a salad, the server says that we can for $3..."I think." Once our server is long gone, I realize that we weren't offered the choice of white or whole wheat bread. I'm happy when it arrives on the latter. The club is OK, though not something I would order again. I feel as though I'm eating a mouthful of toast and that the slices of (real) turkey, bacon, tomato, lettuce and cheese are mere accents to the three bread layers. The accompanying rice is quite tasty.
The small alfresco salad is a generous size and could easily be a meal for a smaller appetite. I'm a bit disappointed because the creativity is there, but the execution is less than thrilling. While the romaine lettuce is crisp and the dried cranberries, feta and mango enjoyable, the canned mandarin orange and pineapple leave me wrinkling my nose in distaste.
After a meal of savoury flavours, I feel as though a bit of chocolate is in order. When I ask for the dessert menu, the server shrugs and says that they don't serve dessert, but mentions another restaurant in the area that sells great desserts.
As we're leaving, I ask about a sale sign in the window. The server gets animated for the first time and starts discussing the racks of clothing. But as she explains the sale, my mind drifts to the meal we've just eaten. It's OK food and service, but it could be a lot better. It's a great concept to have a bite and grab your party clothes for the weekend all in one fell swoop, but I can't help but think that if The Hunt Club wants to distinguish itself as a place for dining as well as shopping, it should focus less on the fashion and more on the food.