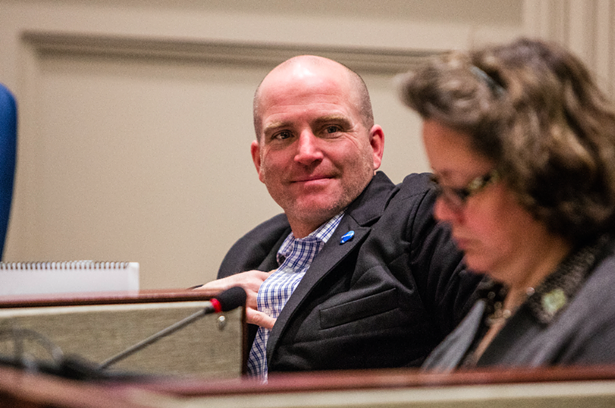 Update: Mason clarifies his since-deleted tweet was agreeing only that Whitman, Adams and Hendsbee need public shaming, not that they are shitheads. The councillor previously told The Coast he stood by his comment when asked about "shitheads" Tuesday evening, but today says he thought we were referencing a different comment. "Sorry, totally my bad," Mason tweets.

———


Matt Whitman's opposition to Halifax's Cornwallis panel has him facing tough criticism from the city's poet laureate and one of his fellow councillors.
On Tuesday, Regional Council voted to
create a special committee
to conduct historical research and hold public engagement sessions on how the municipality commemorates both Edward Cornwallis and the area's Indigenous history.
An eight-member panel, half of whom will be chosen by the Nova Scotia Assembly of Mi'kmaq Chiefs, will report back to council with recommendations in six-to-eight months.
Whitman, along with Stephen Adams, were the only two votes against.
The Hammonds
Plains–St
.
Margarets
councillor says his opposition to the panel is multi-faceted. The administrative order doesn't specify "fact-based" decisions, Whitman claims, and it's too narrowly focused around Cornwallis.
"How about African Nova Scotians?" he says. "How about Acadians? How about gays, lesbians, everyone else? This is just about Cornwallis. There are lots of other names—Barrington, Quinpool, Coburg—that we should also be looking at if we go down this road."
"He's 'all lives matter'-
ing
that," HRM poet laureate Rebecca Thomas says in response to Whitman's comments. "He's 'not-all-men'-ing us. We're not having a conversation about that."
Barrington Street is
either named after
William Barrington, a minor British
politician,
or is a misspelling of
Harrington
. Coburg is presumably named after the German Saxe-Coburg dynasty. It's believed Quinpool Road
gets its name from an Irish widow
—named Quinn—who lived by the Northwest Arm.
There doesn't appear to be a public effort to rename any of those three streets, but calls to topple Cornwallis' south-end statue and rename Cornwallis Street and Park have been ongoing for years.
Whitman was also against
a similar panel
proposed a year ago by councillor Waye Mason. The councillor argued at the time that Cornwallis "wasn't perfect," but his celebration on city land didn't require further evaluation.
Mason's motion was defeated by a single vote. The idea only came back to council this past spring
after a performance by Thomas
of her poem, "Not Perfect," which was directly inspired by comments from Whitman and his fellow councillors.
Thomas says Whitman's latest "all-or-nothing" remarks on the Cornwallis panel are problematic when it comes to truth and reconciliation.
"It places a lot of pressure on the oppressed group to be virtuous if they want to have any kind of argument to move forward. It's either we do it all and be perfect, or if you can't be perfect and do it all then it's not worth doing."
While some view Halifax's founder as an important figure in the city's birth, a growing contingent say Cornwallis'
violent actions towards the Mi'kmaq people
mark him as little more than a symbol of colonial oppression, unworthy of civic honours.
The outcry climaxed over the summer when HRM
briefly covered the statue
in a dusty tarp to dissuade members of the public from ripping it off the pedestal themselves.
Given the high stakes, Stephen Adams argues that making an unbiased ruling could be difficult for some panellists.
"I dare say that the four Indigenous members will be under immense pressure to have that statue removed," Adams told his colleagues on Tuesday. "I don't think it's fair to put them in that situation."
That's faulty logic, counters Thomas, and condescending to the fact-based history of the area's Indigenous population.
"That would be like me saying, 'He's one guy who's representing an entire riding. That's a lot of pressure,'" she adds. "He's saying we don't have the capacity to make these decisions based off of our knowledge and skills and expertise."
Adams wasn't alone in fretting about the panel's membership. Councillor David Hendsbee questioned whether it was appropriate for historians and Mi'kmaq experts from outside HRM to have a seat at the table. Whitman also chimed in on the topic, claiming the wording of the administrative order could be mistakenly construed as a requirement for the panel to have four non-Indigenous members.
"I would say my concerns would be that all eight should be members of the human race," Whitman later told reporters, echoing a comment made earlier in the day by councillor Steve Stretch. "I know four
are
going to be Indigenous. I think the other four should possibly be Indigenous. Or not."
The remarks by Whitman, Adams and Hendsbee
prompted one local Twitter user
to call-out the three councillors as "shitheads" in need of public shaming. Councillor Waye Mason agreed with at least half of that assessment.
Whitman in particular,
Mason tweeted
, appears to have a "mammoth" lack of understanding and pride in his ignorance of Indigenous issues.
"Emotions tend to run high and people tend to get quite entrenched, but I think it's important that we approach this with the spirit of openness and we look at this with an open mind," Mason had told his colleagues earlier in the day. "That we all, both this council and the people on the committee, are willing to listen to different points of view…and we try hard as a community to come together and resolve this issue."
Council approved the four names it will appoint to the expert panel during an in-camera session Tuesday night. The remaining committee members will be nominated by the Assembly of Chiefs.
The names were not immediately released to the public, pending confirmation.
A separate staff report on HRM's truth and reconciliation efforts
is
expected back in the next few weeks.