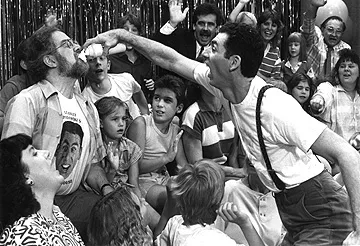 who wants to drink from the fire hose?
Eclectic Avenue, the monthly dance night that also helps raise money for CKDU, is happening again this Wednesday. A cluster of sweet local DJs will be providing the ennatainment this time around: Innez Da Future, DJ Regalia, the delightfully-named Bourbon Jungle, DJ Goldilocks, DJ Fancy Pants Adventure, and DJ T AL Z. We heard a rumor that Stewart Innes (aka Innez Da Future) is going away soon, so this very well may be your last chance to get in his pants (or dance.)
The magic happens at the Seahorse. The cover is $5, it begins at 9pm and as usual, there will be tasty pizza-based grub for free. Hump day doesn't mean schlub day, ya jerk! Go out, have a drinky.