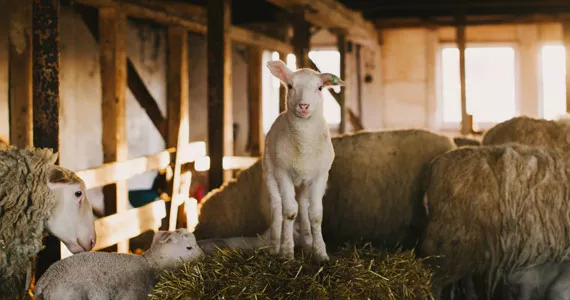 "Ever since I've been here, in the summer afternoons there would be a harrier—a marsh hawk—that would fly out of the meadow below and circle around the hill. It's something that stuck with me," says Dave Hachey, who bought farmland in Scotsburn, just outside of Pictou, with his partner, Christine Whelan. "We were trying to come up with a farm name and I said 'I kind of like Harrier Hill.' It has a sort of poetic ring to it."
Harrier Hill cultivates the poetic on its blog, harrierhill.ca. There's whimsy and romance, simplicity and beauty: knobby-kneed lambs rubbing up against their mothers' cheeks, a setting sun filtered through the tufts of red fur on the fuzzy ears of a highland cow, picnics and birthday parties, colourful clotheslines and mud-flecked farmers.
"There's still a nostalgia, an innate interest in farming and living rurally," says Hachey. "I think that maybe that lends some attraction to the pictures and to the stories."
Harrier Hill's story began three years ago.
"Everyone kind of comes into farming with their own set of experiences and skills, and most people come to it with farming experience, but that's not necessarily what we brought to the table," says Hachey, laughing. While he has had his own interests in photography for years, Whelan has been a professional photographer for five years, blogging all the while for her WonkyEye Photography company. Neither had farming experience.
In 2011 Hachey decided to buy a farm anyway, and took a four-week course offered by the Agricultural College in Truro. It was thanks to the course "The Modern Shepherd" that he found his calling. Harrier Hill is a sheep dairy farm, one of only a handful in Nova Scotia.
It was during his studies that he came across Wandering Shepherd Cheese, a cheesemaker located just outside of Sydney. "He was milking sheep and producing cheese and he was interested in getting more people to provide milk to him," he says. "It was something I was extremely interested in and I decided to get a dairy breed."
While some lamb producers cross-breed dairy genetics into their flocks—"increased milk production among their ewes makes for a faster-growing lamb," says Hachey—not many local sheep farmers have purebred dairy lines and inspected dairy facilities.
Along with the sheep, Hachey and Whelan have highland cattle, chickens and some classic barn cats and farm dogs. He realizes they are harvesting cute. "Living with a photographer you think about what does make for good photos. Physical appearance of the animals certainly factors into things," he says, laughing.
But that's not the only reason. "Having a diversified farm also has certain economies to it, too. Rotating cows and sheep in pasture rotation is good for the soil is and good for the ground because they graze slightly differently. And also moving cows through pastures after sheep can break parasite cycles," he says. "Having a bit of everything is not just for aesthetics, but has practical purposes, too."
Harrier Hill's blog also walks that line of working on both aesthetic and practical levels. While they get lots of feedback on adorable baby animals, they are also able to network with other farmers. "It serves a lot of purposes," says Hachey. "Not just marketing, but also networking. Other farmers make connections, offer advice or want us to visit them or to come visit us."
By sharing their lives with readers, the doors are always open at Harrier Hill. So go meet your farmer at harrierhill.ca.
---
Harrier Hill Farm
Scotsburn, NS
harrierhill.ca