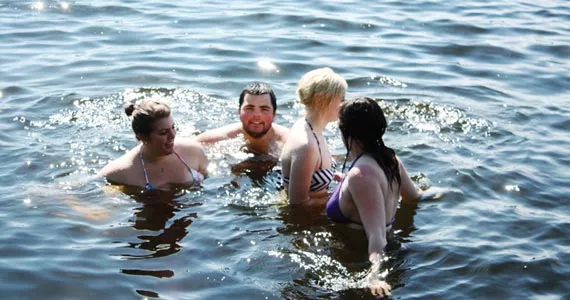 Monday
Chocolate Lake or Lake Banook
After breaking up the day by staring longingly out the window, and angrily tweeting that every weekend should be a long weekend, you've punched out and are ready for a swim. But it's Monnnnday, so easy access is key. Two lakes in town are perfect for quick dippers with no access to a vehicle. Both Chocolate Lake and Dartmouth's Lake Banook can get a little grimy as the summer wears on---they're busy, family-friendly spots due to their accessibility---but on those muggy days, they'll do just the trick. They're both warm, the kind you could bob in for hours, but swim here in the evening to avoid crowds.
Directions: Find Chocolate Lake on Herring Cove Road, just before Melwood Drive (on the right). Buses 14,15, 20,42; Hop into Lake Banook at Birch Cove Park, 46 Oakdale Crescent (off Crichton Avenue). Buses 54, 62.
Tuesday
Long Lake
It'll be tough to take the jaunt into Long Lake without passing someone you know---it's a popular spot to bring a pizza and lounge on the rocks or take your pups for a leisurely walk. But Long Lake is definitely a swimmer's lake, offering tons of space to explore. Because of its longness, it's pretty easy to find a private rock or piece of shore to chill on, so don't worry about shoulder-to-shoulder tanning with strangers. After you've done sufficient work on your butterfly, stop off at Euro Pizza (31 St. Margaret's Bay Road) on the way home. The pizza's great, but the homemade yogurt is tastebud bliss.
Directions: Between the first two sets of lights on St. Margaret's Bay Rd you'll see bikes and cars parked alongside the road (the lake's on the left). There are many access points, but the parking lot (just before Prospect Rd) has a clearly marked entrance. Buses 22, 23.
Wednesday
Rainbow Haven Beach
Your carpool agrees---it's salt water time! Extra-sweltering days are the ones to take the gamble of venturing to the ocean, risking the fact that it could be five degrees cooler and a hell of a lot foggier when you get there. Rainbow Haven's an ol' reliable, with bathrooms, a canteen, loads of parking, lifeguards and sand, sand, sand. Though this beach gets packed, the half-hour trip and tight quarters will be worth it once you feel those refreshing waves hit your shins.
Directions: Take the 207 until you reach Bissett Road. Hang a right here, and a left at Cow Bay Road.
Thursday
Tea Lake
Oops, you totally skipped out of the office an hour early in a bout of heat stroke, or something. With some extra daylight on your side, pair a mini-hike with your cannonballs and flutter-kicks. Find the entry point to Tea Lake (AKA Purcells Pond) and venture through the forest to find this brownish -reddish warm little lake. Those woods you'll trod through are actually conservation lands, protected by the Nova Scotia Nature Trust, so be kind and leave no trace of your heat-stroked self behind. Wanna amp this adventure up? Make it a wee triathlon by biking the six-ish kilometres up Purcells Cove Road, hiking in to the lake and then swimming some laps.
Directions: Follow Purcells Cove Road until just past house number 557 and just before Battery Drive. The hiking trail's on the right side of the road. Bus 15
Friday
Lawrencetown Beach
This rocky, choppy, rugged stretch of beach is a surfers' paradise for more than just the waves. While not always the warmest, Lawrencetown is a true beauty. It might not be ideal for sunbathers, but it'll stun with its scenery, it's great for people-watching (though those surfer babes don't go wetsuit-free all that often) and to drive the 35 minutes just for a sunset is completely reasonable. If you prefer the sand between your toes, try the nearby Conrad's Beach.
Directions: The 207 outbound will take you where you need to go after about 20km. Conrad's pops up first (take a right on Conrad Road), then Lawrencetown.
Saturday
Williams Lake
Enter from the Purcells Cove side of this lake and it'll feel kind of like that classic movie moment where a character pulls back tree branches to reveal a fantastical oasis that's perfectly hidden. Veer right, find a rock and enjoy this clear, secluded-feeling water world by racing your friends to the little island on the left of the lake.
Directions: Follow Purcells Cove Road for about 4km, watching for a clearing or parked cars on the right side. It's less than five minutes through the woods. Bus 15.
Sunday
Crystal Crescent Beach Provincial Park
A mere 30 minutes out of town, Crystal Crescent is one of those places that really makes you appreciate living near the ocean. Separated into three white-sand beaches (the third doesn't require swimsuits) you've got options galore for lazing, picnics and play, PLUS walking trails and outhouses. Make this an all day event and bring snacks, sunscreen, a sweater and a good book. Damn, don't you wish every weekend was a long weekend?
Directions: Follow Herring Cove Road to Old Sambro Road then take a right. After 17km(ish) take a right on West Pennant Road, your first left onto East Pennant Road, then a right onto Sambro Creek Road.