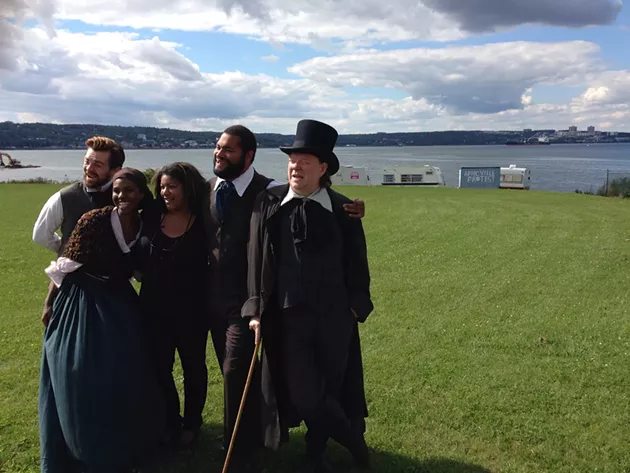 George Elliott Clarke
is a conductor of words. He commands, cajoles and coaxes them to make beautiful music.
In his new play,
Settling Africville
, Clarke brings history to life and light with his trade-mark poetic, heightened language and witty word play.
Settling Africville
is not a verbatim history of the founding of the black community on the shores of the Bedford Basin, but rather a testament to the strength and tenacity of the African American Refugees of the War of 1812. They braved the inhospitality of Nova Scotia (and Nova Scotians) to settle here.
The production makes beautiful use of projections to set scenes, and the four actors (
Naomi-Joy Blackhall
,
Jacob Sampson,
Drew O'Hara
and
John O'Keefe
) speak Clarke's poetry as if it were their native tongue.
The hero of the play is billed as the famous abolitionist and clergyman
Richard Preston
, but I would argue that it is the lesser-known
Louisa Bailey
who is the true hero of this story. She is a formidable character who stands strong against oppression in all its forms.
The play, which was commissioned by the
Africville Heritage Trust
and capably directed by
Juanita Peters
, had a very short run at Alderney Landing. However, there are plans to restage it in the future.