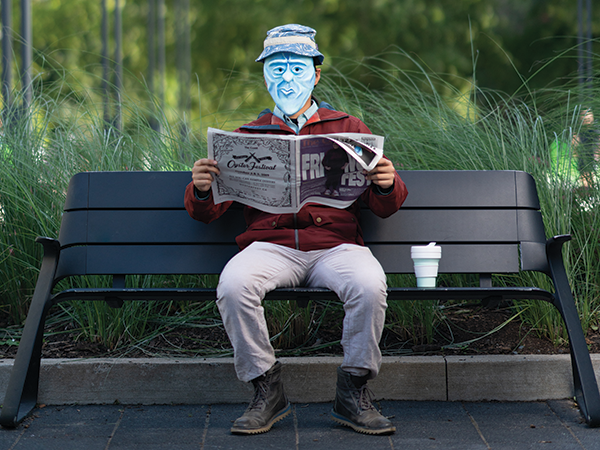 Settle Elsewhere
Oct 24-25, 5pm; Oct 26, 1:30pm, 5pm; Oct 27, 1:30pm, 5pm
Canadian Museum of Immigration at Pier 21, 1055 Marginal Road
$10-$20
---
T heatre du Poulet came onto the local scene in 2017 with The Extinction of Hong Kongers, a puppet show that tells a story of Hong Kong's fraught past and uncertain future. Under the helm of creative duo Chun Shing Au (Roland) and Carmen Lee, the company is back with Settle Elsewhere, a work of site-specific, documentary theatre that moves through the streets of Halifax and brings the audience face-to-face with stories of immigration.
"The first show we did was as newcomers," says Lee. "We arrived from Hong Kong and talked about where we are from. The second show is the next chapter. We've settled elsewhere, we're immigrants now."
Lee laments that most Canadians do not have a good understanding of the newcomer experience in Canada. The show aims to uncover this hidden story of our country. "We don't really have a platform, or time, or opportunity to talk about the experience," says Lee. "I think this is the right time to talk about it."
Last March, Au and Lee conducted over 50 interviews with newcomers to gather the material for their new creation. They also spent a week as residents of Ross Creek Centre for the Arts in Canning where they worked with Ann-Marie Kerr to develop movement and mask techniques.
For its first production, Settle Elsewhere gathers a cast of six, all with different newcomer experiences. The performers are from Syria, Australia, Hong Kong, Norway, Germany and Malaysia. The creators are careful to include as wide a variety as possible, understanding the scope of what it means to be an newcomer and to settle in a new place.
The performance begins fittingly at the Canadian Museum of Immigration at Pier 21. The company is secretive about where and how the audience will move between locations. But they hope the experience uncovers some of the hidden lives of newcomers and makes us more aware of the people we share our home with.
"It's kind of a secret inside our hearts," says Lee. "We don't get to talk a lot about our private lives. You never really know what we are facing."