Christmas Eve, 2008. A group message, Facebook.
"I hope you're having a wonderful and glorious and perhaps a little drunk holidays. MAD and I need your help, if you have time and energy after xmas. If you have painting, sanding, staining, cleaning, sewing, minor carpentry, or just have a flair for helping and smiling....we would really appreciate your help to get the bar finished for new year's. We'll be working Dec 27-31 and if you have time and energy and desire, just send me a text or a note and we'll likely be there—if we're not at Home Depot, our new second home."
The author was Heather Gibson, then an artist manager and the driving force of the In the Dead of Winter Festival. MAD was Mary Ann Daye, her partner at the time. Together at 2202 Gottingen Street they were opening The Company House with a friends-only party on New Year's Eve, and as it often goes with renovations of any kind, it was coming down to the wire. The group they reached out to was comprised of nearly all musicians, queer-leaning as a whole and dominated by women. This would become and remain its core audience, its community.
Though initially envisioned as a listening room for folk music, The Company House soon established itself as invaluable, its offerings and clientele expanding as it became more entrenched in the larger artistic community, booking comedy, residencies, dance nights—its twice-monthly retro night always had a line out the door—and cramming full bands, from straight-up rock to hip-hop, onto its tiny stage. It was of course an anchor venue for both IDOW and Pride but also the Fringe, Halifax Pop and OUTeast festivals and, as Gibson's role within the organization grew to executive director, the Jazz Festival.
The Carleton Music Bar and Grill had appeared two seasons before The Company House, opening in spring 2008 near Grand Parade on Argyle Street, before the Herald building came down, before anybody could guess the sun would be permanently blotted out Mr. Burns-style by the alleged convention centre. Its model was different than The Company House's, or really any existing venue at the time—it wasn't just a listening room, or a bar, but a supper club, a nice place to see a show with good sound and eat a higher-end meal. Joel Plaskett was the first live entertainer. Its fries were dunked in duck fat and called frites, that's kind of vibe it was after.
Its co-owner, Mike Campbell, was a scene veteran and familiar face, having hosted MuchEast and Going Coastal on MuchMusic for years (and post-show parties in his own backyard tiki bar, which became prominent enough that there is now a Music Nova Scotia-sponsored stage at Canadian Music Week called The Tiki, complete with an annual battle of the bands for a slot). At the time he also had a stake in Plaskett's management. In the Carleton's early days, he would stand on stage at the top of every show and lay out the rules of the room, which all boiled down to one ethos: Respect the artist.
The Company House was surely helped by the in-motion gentrification of the north end—Gottingen was where young upstart business-owners wanted to be—but both bars also filled a consistent void in this city: A place to play. At the time Stage Nine had been closed for two years; The Khyber Club, which Gibson had managed and thrown the first IDOW in, was in one of its event-only periods—the gallery has moved down to Hollis Street, but the legendary Barrington building is just sitting there, an unburied casket—and the Marquee was about to close again, the space reopening in the spring of 2009 as The Paragon Theatre. (That iteration lasted two years, followed by a shuttered period, an attempted move by Reflections stopped by the condo residents across the street, and then, finally, it became the Marquee again. The Seahorse moved up from Argyle and into the basement, originally Hell's Kitchen, in 2014.)
Mid-sized venues are important. For local artists, they're a place to graduate to, up from bedrooms, basements and coffee shops. For touring bands who can't fill a theatre like the Cohn or a standing space as large as Olympic Hall, the Multi-purpose Centre at the Forum or the Cunard Centre, they're essential. That 100- to 150-person-capacity space—the Carleton, the Coho, the Seahorse, the Bus Stop (the Marquee is on the largest end of mid, maxing out around 600)—is integral to a vital, thriving music scene, sitting right in the sweet spot of intimate, but with production values.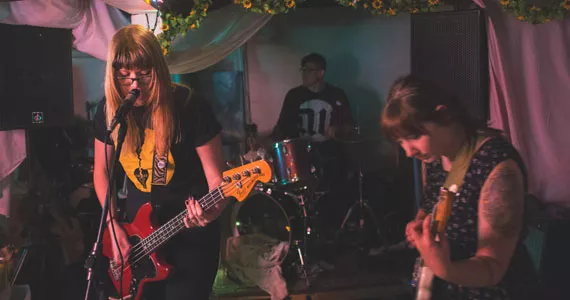 Unfortunately it's also one of the hardest to run—there aren't many local bills that can pack a mid-sized bar from Thursday to Saturday every weekend, and not enough touring bands coming through to make up the difference. These spaces are just dressing rooms to people who play the Scotiabank Centre, but when there's no one in them, they feel like empty arenas. (And their operators are definitely not working with an arena budget.)
Campbell, blaming endless convention centre construction and changing live music habits—while ignoring that perhaps his business model doesn't suit a city of poor artists, who don't have cars to park downtown anyway—announced in September that the Carleton was under creditor protection. It's expected to close, at least in its current form, by the holidays. Daye and Gibson, who parted ways personally and professionally, sold The Company House this summer with the understanding it would continue to operate as a live venue, which it has. The changes have been minimal, but their effects felt drastic—artist posters gone, chalkboards full of drink specials instead of upcoming shows, mediocre sound. The queer vibe, dissipated. None of it was wrong, exactly—and surely the new owners, who came from dinner theatre, did not want to alienate a carefully cultivated, loyal audience—but the feeling swiftly became something wholly disappointing: Generic.
That's a loss of two mid-sized live venues back-to-back, with singer-songwriters taking the biggest hit on this particular round. One is a lot, two just seems cruel. It's upsetting to watch dreams die, communities splinter, artists scramble, established reputations become just another date on a timeline that stretches back decades.
But this is Halifax, and that's always happened. Businesses fail, partnerships break up, tastes change. Ask someone in their forties about "Backstreets," Birdland, the Flamingo—venues that were so key during the New Seattle years. The Marquee of today is nothing like the Marquee of 1998 (although Matthew Good remains). The scene has always survived, even when it seemed impossible, even when it's been as exhausted as it is this year.
But the impending closing of the Carleton and the changes at The Company House, though they sting, are just a piece of the apathy pie. One venue has never been—could never be—the key to the scene's survival.
Here are some other current excuses of varying validity:
1 The olds The dream of the '90s is alive in Halifax, and you will pry it from our cold dead hands, from where it's stuck between our Sloan LPs. There was barely a music industry to speak of back when people were getting signed to Sub Pop. (The first East Coast Music Awards were held in a bar.) Now it's a government-funded sector with serious revenue-generating power, which would be better if those at the top had changed since the '90s. You know what else was big in that particular era? Celtic music.
Music Nova Scotia, which as a provincial non-profit has the unenviable position of trying to please a membership of disparate genres and demographics, brought in nearly three dozen delegates representing Irish and Celtic festivals to Nova Scotia Music Week two weeks ago, even though the focus territory this year was Poland, which is baffling in its own right. Joel Plaskett played at 10pm on Saturday, sucking all area residents away from the other venues (and hitting the other '90s button, the one wearing flannel). There was a story about the Celtic traditions of Cape Breton in the New York damn Times just last week, interviewing Ashley MacIsaac and Natalie MacMaster, who are both over 40.
This is what the world thinks we do in 2016, and why shouldn't it?
Meanwhile, this year's local success stories, Ria Mae and Nap Eyes, made their careers outside of the system that's become the norm, cranking out gold singles and getting written up in Pitchfork while everyone else is Skyscanning tickets to Warsaw or whatever.
2 The kids All they want to do is dance, dance, dance. Why stand with your arms sullenly crossed listening to somebody's reverbed diary when you could dance instead? Guitars? Gross! Today's crop of 19-pluses have all grown up with the internet, so local music is just another Spotify list to them, that is to say not special, so they don't connect to the idea that to truly support your favourite local bands you need to go to their shows. Show-going is a disappearing part of the youthful fabric, and anyway the city shut down The Pavilion for two years, an eternity in music time, so those rare yutes who are interested in supporting their local scene have few options. Plan B and Radstorm have tried to fill the void, but they're not dedicated music venues. If you've no place to play, you've no place to see bands either, so you never start them in the first place.
3 The internet Netflix has become the go-to excuse for artists as a species. No one came to your play? Netflix. Sold fewer paintings? Netflix. Empty bar? Netflix! (If Netflix had naming rights to the convention centre, it would be the perfect blame-target, forever.) Additionally: Why pay for a live show when you could watch it on YouTube or wait for the festival livestream? Why even bother with seeing a band—the mp3s sound so much better!
The internet has changed everything about how we interact with music, from its availability, to its worth, to how long we're willing to stick with one piece of it. The answers: Worldwide, nothing if we can help it, a day if we're lucky. This has raised a well-documented host of issues for artists, who are having their albums outright stolen or streamed for next to nothing. If nobody comes to see them live, to buy the shirts, that's it. There are no other revenue streams (even the coveted car advertisement or television placement pays significantly less than it used to).
4 The city Why do you do the things you do, HRM? Why did you close the Khyber building for flimsy reasons and continue to let it sit there unused, the KHYBER FOREVER someone painted across the windows mocking you daily? Why did you mess with The Pavilion? Why do you let tiny handfuls of bafflingly entitled residents shut down bars and venues just by yelling a lot? (And that shit is historical, going back to when Flipburger was The Blues Corner.) Why are you the way you are?
5 The beer At some point we all became OK with paying $9 a pint, and that's our business. But it means we have less money for cover, so we're choosing beer gardens over live music. Operating a venue is hard even when people are in the mood to love live music—the costs of rent, staff, insurance, equipment, promotion and alcohol are sizeable, and even then you might not be able to get people through the door. Open a craft beer bar and print money instead.
These issues could all mostly be filed under Contemporary, but the historic Halifax problems remain: People move away, as young artists always have. (Montreal has become a favourite, over the traditional Toronto.) Shows start incredibly late, as they always have. (An aging population having babies + a youthful population uninterested in live performance = no one at the show.) Halifax is a little dongle on the edge of the continent, a long drive to and from all major North American cities, as it always has been. (No one's coming out on a Wednesday night at 11:30 anyway, especially if it's over eight bucks.) There have been massive cuts to arts funding, as there always have been. (#NSEverythingJobs)
Every reason the scene appears to be faltering comes back to one thing: Community.
Music is a community. It begins and ends with people coming together for a common purpose, in this case the best one: Art. The problem is that—and you can blame Netflix for this, truly—once the whole world became available to us, we became insular. The individual has more customizable options than ever, and though some of us may share in a brief moment through a meme or a television show, that moment is fleeting and forgettable.
When Mike Campbell says on CBC Radio that "Some bands won't come here" once the Carleton is closed, we fight all day on Facebook about the validity and context of that comment, with names we've never met or heard play wading into the fray, and we'll debate them online, but we won't go to their next show.
Our little communities—and there are so many, and each believes it's as important as the other, and everybody is right and everybody is wrong—no longer connect with each other to comprise the music scene as a whole. We don't want to hand over our increasingly precious time to an unknown artist when we could be listening to what we already know. We don't want to leave the house.
Connection is harder than it's ever been, and it couldn't be more important. That is larger than any venue, mid- or other-sized.
As humans we've begun to work toward creating more inclusive, more sensitive and safer spaces everywhere. But when it comes to the music scene, Haligonians have settled inside our own lines—from indie rocker to art kid to rapper—stuck behind our own snobbery, tastes, laziness, whatever. Good intentions can't build a community, only people can. With their voices and instruments, and their bodies in a room to hear them.
Tara Thorne has been on staff at The Coast since 2000. She served on the Board of Directors of the Halifax Pop Explosion for eight years, appears weekly on CBC Radio in two provinces, teaches in the music business program at the Nova Scotia Community College and leads the rock band Dance Movie.