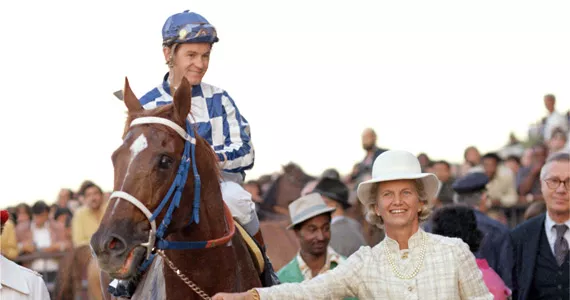 Director Phil Comeau had some trouble keeping up with 71-year-old retired jockey Ron Turcotte.
"He would call me at midnight with ideas on where we should go the next day for filming," says Comeau. "We had to get up at five in the morning to shoot. He has incredible energy."
Secretariat's Jockey: Ron Turcotte is the classic rags-to-riches story about how a young man from northern New Brunswick became one of the greatest jockeys ever in horse racing.
The story begins in Grand Falls, NB where Turcotte grew up in a large French Canadian family. Turcotte's kind touch with horses led him to riding the greatest horse in racing history, Secretariat, and winning the US Triple Crown in 1973. After a tragic accident in 1978 left Turcotte paralyzed, he became a well-known advocate for jockeys.
For several decades Turcotte refused to be filmed for interviews. Comeau's Nova Scotian roots helped him get Turcotte's approval. Originally from Digby, Comeau is a veteran filmmaker whose 1994 film Jerome's Secret won the People's Choice Audience Award at the Atlantic Film Festival.
"It's great to tell a story from home," says Comeau. "We need heroes and living legends. I wanted to show how Turcotte is still involved and volunteering in the sport."
Comeau faced many technical challenges in production. To give the film pace and action, Comeau shaped the documentary as a road trip. Production was nearly ruined by Superstorm Sandy. The disaster nearly destroyed the archival footage of the races in the CBS studio warehouse in New York, which was underwater.
"It was an enormous challenge to go through the archives," says Comeau. "Turcotte won more than 3,000 races. We needed the footage of the Masters from the States. We were so scared. They were decontaminated so it worked out."
The film covers Turcotte's career and the beauty of horse racing with ease. Comeau certainly had a lively subject for his engrossing documentary.
"We're shooting Ron's van and he would just speed away and disappear," says Comeau. "You know, his nickname is The Fox. He still likes to go fast."