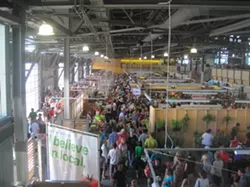 The Seaport Farmers Market will "undoubtedly" be a success, says Frank Schwartz, head of the group of citizens who invested $1.7 million to help make the market a reality. But part of that future success is based on a restructuring of the market that squeezes the investors out. It's possible the investors have simply lost all their money.
To back up, the Seaport Market came about through a complicated financing deal. The market itself was to be run by a for-profit vendors' co-operative, which rented the space from the Port of Halifax, a federal crown corporation. But it took about $6.5 million to renovate the old pier and warehouse. To find that money, a separate non-profit co-operative was set up to receive funds from various sources.
Schwartz, represents yet a third cooperative called the Farmers' Market Investment Cooperative, which solicited investments through a Community Development Investment Fund---a provincial program that gives tax breaks in return for investments in local projects like the farmers' market. About 500 people invested $1.7 million for the Seaport Market. About $1.45 million of that went as an upfront payment to the port, for a 26-year lease on the property. The balance went to professional fees.
The investors range from "rich south enders" to "just people who wanted to put $50 or $100 in," says Schwartz, including, for disclosure's sake, some Coast staff. That money in hand, the federal, provincial and city governments contributed an additional $5 million to make the market a reality.
Problem was, "everybody did a little less due diligence than they should have," says Schwartz,. Especially problematic was the idea the market could turn a profit immediately. "It was unrealistic to think that a three-hour farmers' market could immediately turn into a seven-day-a-week operation," says Schwartz,.
With lacklustre revenues, the market fell behind on its operational costs.
Last fall, a consultant was hired to study the market and recommend changes, and Schwartz, is confident those changes will result in the market turning a profit "in five or 10 years." But to deal with the immediate financial crisis, this week the vendors' co-operative is turning over the lease of the facility, back to the port, which will become the direct landlord for each vendor.
However, says Schwartz,, his group was never brought into the conversation. Until this week, he's had no communication with the port, and he's dissatisfied with the response he's gotten this week.
"Basically, they're saying we're toast," he says. Schwartz, plans to address the investors in a meeting called for Wednesday evening, after The Coast goes to print. Asked to comment on the port, Swartz is diplomatic. "They're not the bad guys here," he begins. But later he suggest the port is living up to its obligations. "They're meeting the legal standard, which is the minimum," he says. "But there are moral and ethical standards that are higher than the legal standards. We're part owners. Why are you freezing us out? You have our money."
Still, no matter what happens to the investors' money, Schwartz, is enthusiastic about the market: "I go there every Sunday."