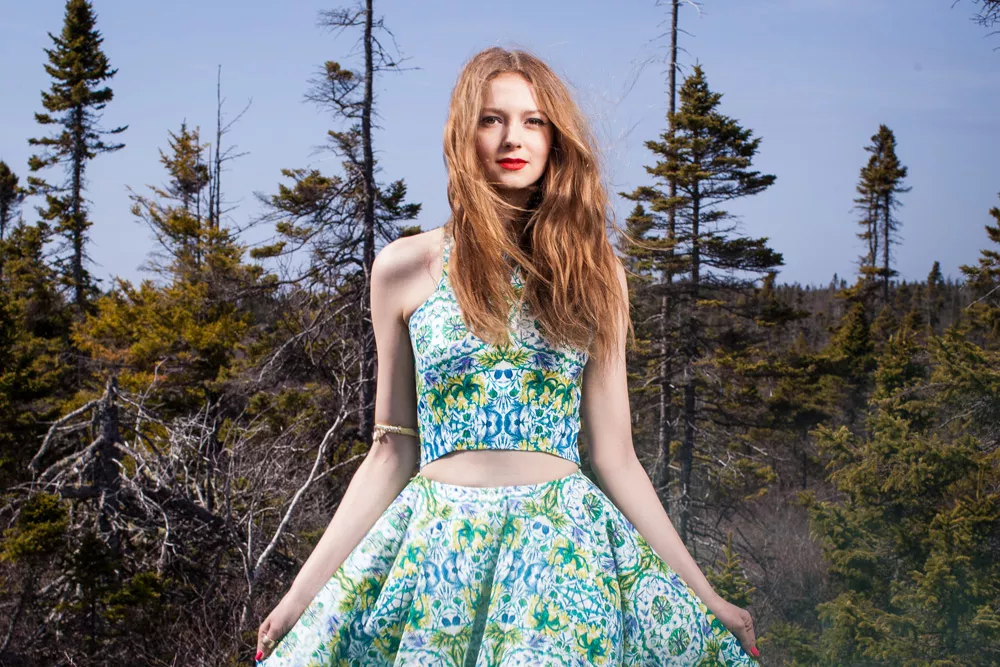 "It doesn't get better than the Seahorse or Gus' Pub," says Ivy Matheson, who's been to her fair share of swanky clubs. Matheson's posed on the cover of Elle Singapore and Elle Girl Korea. She's been featured in an editorial spread for Marie Claire Australia, has walked in Toronto, New York and Tokyo's fashion weeks, and doesn't plan on pumping the brakes anytime soon.
Whenever the 21-year-old isn't on contract she lives with her mom in Seabright, NS, a small town just outside of Peggys Cove. In a place where roads are dirt and the population barely pushes 500, being home is a good opportunity to unwind from the inhuman pace of the modeling world. "I come home to recharge my batteries and reground myself," says Matheson, "because you go a bit crazy."
Her love for modelling was sparked at 14, when modeling scout Linda Buchanan spotted Matheson at her junior high school. At the time Buchanan owned the modeling and talent agency Strut. "I was always super-lanky and awkward as a child," says Matheson. This appealed to Buchanan. Matheson begged her mom to let her try it out, who obliged, forking out the cash necessary to get her daughter into the industry.
Buchanan has since faced 26 various charges surrounding fraud, theft and probation-breaching, after defrauding a Lunenburg bank in 2010. Cutting all ties with Buchanan was nasty but necessary, though Matheson says there's "no beef."
"To be fair," she says, "I don't know if I would be where I am today without her." Buchanan was the one to connect Matheson with her Toronto agent, Dan Grant, in the first place.
Grant was optimistic about Matheson from the very beginning. "Even when I was five-foot-six and three quarters," she says. Eventually Grant introduced Matheson to her current agency, in Calgary.
Her first big break happened at 17, when she was contracted to work in Shanghai for the summer between grades 11 and 12. "I basically learned how to model in China," says Matheson.
Crazy competition in the industry means models are headed to Asia to build up their portfolios, which works well for Matheson because of her height. She's 5'8", and in the modeling world, that's the bare minimum.
The reality of modeling is "a lot less glamourous" than what America's Next Top Model would lead you to believe. When Matheson arrived at her model apartment in China, she was horrified to find she shared the place with some roommates of the non-human variety–cockroaches. Days are long, exhausting and sometimes mind-numbingly boring. You can sit for hours in a waiting room filled with hundreds of women hoping to be the Cara Delevingne of Asia. "Sometimes I'd be wearing an outfit for an hour because they have to just move a wrinkle or turn this button a little bit," says Matheson.
Matheson recently returned from a contract in New York, and is going to be featured in Seventeen this summer. "It's kind of cool because it's one of the first magazines that my friends can go to the store and actually pick up," she says. Her next stop: Los Angeles. She's signed with an agency there and is heading out in May. It's no coincidence that acting's been on the young model's mind.
Although physically and emotionally taxing at times, she's happy to call modeling her full-time job. "I've been traveling for the past two years for my work. That to me is amazing."
---
http://www.notsopoisonivy.com/