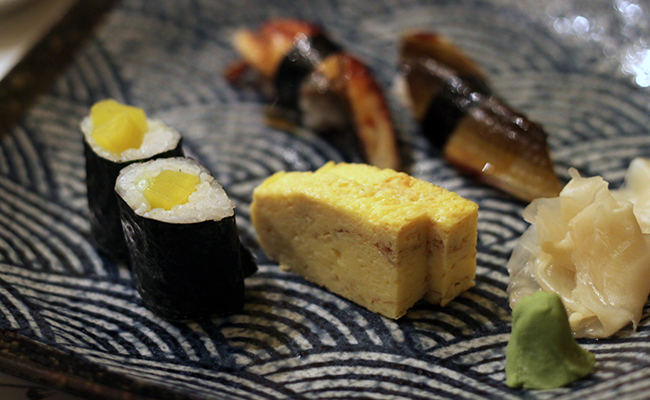 Sushi Shige
1532 Granville Street
Omakase reservations:902-422-0740
Omakase is a true statement of trust. When you order omakase at a Japanese restaurant, you put yourself in the hands of the chef. You trust them to feed you and to feed you well. At Sushi Shige, it is without a doubt the best way to experience the restaurant.
It's a simple space, mostly a sunny yellow with a few small pieces of art scattered around. There is a bright painting with a couple of fat whole fish plated with lemons that sits by the door to the kitchen, across from Shige's workspace in the centre of the dining room. He quietly works there, surrounded by plates and bowls, shaping the rice, rolling maki and deftly slicing through each delicate fish.
Most of the sashimi is made from saku bricks, fleshy blocks of pinks and oranges and creamy whites. Curls of octopus tentacles and frizzles of seaweed, little tubs of bright roe and piles of shredded radish are constantly at the ready, avocados just waiting their turn to be sliced or arranged. Chances are when you order omakase, depending on the season, you might see a scallop shell or hollowed-out fruit or gourds in the plating, sometimes even a fish head and tail.
An omakase menu showcases more than just flavours, it's a showcase of techniques, textures and even colours. Our meal starts with umeshu, a sweet wine with a slightly zippy tartness made from the green Japanese plum, garnished with a luminescent preserved plum. Then we we're served a salad of bright vegetables and silky curls of organic salmon, topped with a vibrant and earthy ginger dressing and a vividly orange explosion of tobiko or masago, roe from flying fish or capelin.
One plate has fat pearls of ikura—a bright orange-y red salmon roe that, when bitten, pop like tiny briny water balloons—piled around shrimp and eel tail. Sweet earthy miso and teriyaki sauces are swirled on the the plate in pools of creamy and inky browns, and a fiery, black pickle spiked with the puckering citrus notes of yuzu punch up the dish with a deep umami flavour.
Clam soup seems subdued, the broth foggy with miso, but it is filled with dozens of tiny bar clams, each one sweet, buttery and mild, every cracked shell murmuring salty whispers from the Atlantic that sound like echoes from the Sea of Japan. It's sublime in its simplicity.
Airy tempura—plump, nutty oysters, crisp green beans and crinkly waves of nori—gets a pow of vegetal umami when dipped into into powdery green tea salt. It's a nice contrast to the standard sweet, fishy tentsuyu dipping sauce, which itself is given extra heft with shredded daikon and a dollop of ginger.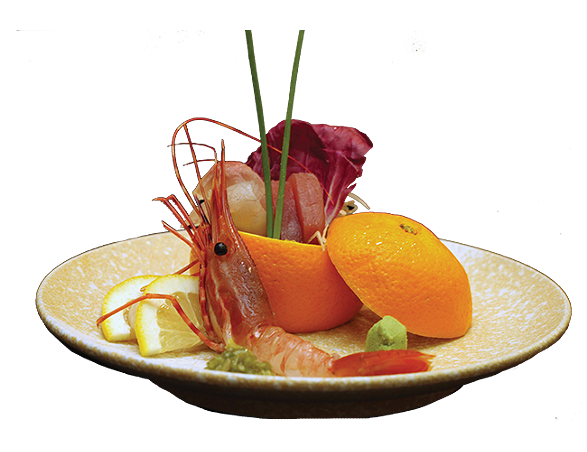 The delicate sugary notes in fluffy tamagoyaki, a pillowy rolled omelette, contrast the sticky, luscious sweetness of unagi and anago—freshwater and saltwater eels. And they are both countered with the umeboshi maki's tart pickled plums that ping with slight sourness.
The most beautiful part of the meal, though, is a succulent ama ebi, raw sweet shrimp with head and tail left on, served leaning against an orange, antennae bending back into a couple of chives that shoot upward, popping bright dark green against the sunset pinks and oranges of the beautifully sliced fish within the fruit. Chutoro, rosy slices of tuna and slices of pinky-white sea bream sit atop thick ribbons of wakame seaweed and shredded daikon in the cup of the half-hollowed orange. Slices of raw scallop are tucked between even sunnier slices of lemon that are essentially "cooking" each thin slice in their acid.
The meal is capped with a fruit plate featuring a frozen mango mochi topped with a red bean paste. By the end we are pleasantly full, but still feel light from the experience. Our trust paid off. It always does.