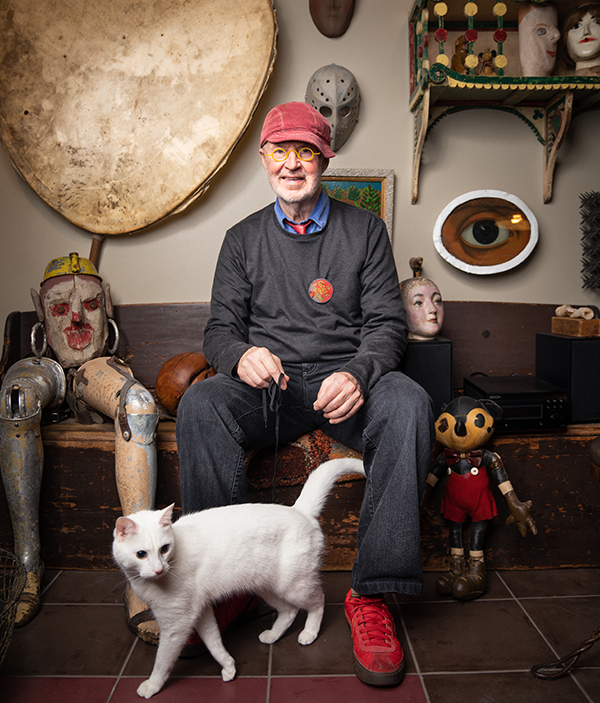 O ften referred to as the "music of friends," chamber music has stood the test of time as a genre that, from the Medieval period to present day, has relied on the cohesion, synchronicity and mutual respect of all involved. For musicians of the genre, the intimate sense of community, memories and moments shared are favoured in place of popularity and commerciality. It's precisely these factors that will bring together many chamber enthusiasts when the 40th annual Scotia Festival of Music begins its two-week run this Sunday, May 26.
Having enriched the musical landscape in Nova Scotia since 1979, Scotia Fest has brought countless world-class talents and performers to the province. But who is the individual behind four decades of excellent chamber music programming in Nova Scotia? That's simple: Chris Wilcox. A pillar of the chamber community, he is soon stepping down as managing and artistic director of the festival and passing the torch to pianist Simon Docking, but not before one last go at producing another spectacular string of events.
Recounting his early musical influences, Wilcox cites Elvis and Dixieland as childhood favourites, but he soon developed an appreciation for the classical music he'd hear at family parties. "I sort of learned it without knowing," says Wilcox of the musical stylings his mother and sister would listen to in his youth. "I decided pretty late in life that I wasn't going to make a living playing basketball, and I decided to learn how to play the clarinet."
Moving from Toronto in 1967 to play in the Halifax Symphony Orchestra—a precursor to Symphony Nova Scotia—Wilcox stayed with the symphony until the late '70s. That's when he and his teacher Bob Marcellus, the principal clarinetist of the Cleveland Orchestra, had the idea of bringing chamber music to the province.
"In a late-night drunken conversation, he suggested we start a chamber music festival and design it as sort of a summer home for the Cleveland Orchestra," says Wilcox. "It would be dedicated equally to education and performance."
And that's just what it's become. Since launching, the festival has been both a platform for showcasing established world-class talent and also a launching pad fostering the future of young musicians. "I can name a truckload of people who've gone on to great careers from the Scotia Festival," says Wilcox of the homegrown talent the festival has inspired. In addition, he's also been instrumental in creating special moments such as a 6am trombone ensemble concert held on a lake at sunrise.
However, Wilcox says his all-time favourite Scotia Fest moment came in 1991 when conductor Pierre Boulez of the New York Philharmonic brought his entire 36-member Ensemble Intercontemporain from Paris to Canada for the first time, and served as guest director of the festival. With The Globe and Mail praising it as the greatest music event in Canada's history, it's no wonder that it is such a poignant moment. "That year changed my life," says Wilcox. "That is definitely the highlight of my career...aside from The Music Room."
Alongside the festival and other creative endeavours, Wilcox started the Peggy Corkum Music Room, a performance space and recording studio which has seen high-profile artists, as well as music students, perform in its intimate concert hall. "I still don't believe it's here—it just sort of magically appeared," says Wilcox of the space, which has quite literally cemented his legacy as a benevolent figure in the local music scene. "I still go down there in the mornings and drink coffee and look around and wonder where that thing came from—it's a small miracle."
"I can name a truckload of people who've gone on to great careers from the Scotia Festival," says Wilcox of the homegrown talent the festival has inspired.

tweet this
Meanwhile, Wilcox's colleagues, friends and team members would say all of his accomplishments and great feats are the result of being a passionate individual with love for the music. People like acclaimed violinist Mark Fewer, who's worked alongside Wilcox, has nothing but praise for the soon-to-be-retired director.
"I became aware of how deeply committed Chris was and still is to the festival—I don't see that changing anytime soon even though he's stepping down," says Fewer, who has known Wilcox since 1991. "I have no doubt he'll remain completely loyal and faithful to Scotia Festival and will want to see it flourish in the future."
Fewer is among the many performers returning to Halifax over the next couple of weeks to honour Wilcox and to celebrate the 40th anniversary of the festival. With world-renowned musicians such as violinist Marc Djokic, clarinetist Dominic Desautels, pianist Peter Allen and the disbanded Super Nova Quartet reunited to perform one last show, it's sure to be an unforgettable festival with much significance. Ultimately, Fewer says he believes the festival's future is in good hands.
"Chris is a man of a certain kind of operational standard," says Fewer. "When he really wants to push for something he wants to see happen, he's not really worried about what that takes in terms of tenacity required to pull off some of those things musically. I don't think anyone is seeing this as we're getting rid of one person and putting in the polar opposite—I think the deciding chapter of Chris' legacy is the fact that it is a smooth baton being passed to Simon Docking."
When Wilcox thinks about his next chapter, he's planning on taking it easy while continuing to keep his creative spark intact. "I'm going to do some drawing and write a bit of a biography—and play some bridge and squash." he says. However, as he prepares for another two weeks of chamber festivities, he makes it clear that passing the baton it doesn't mean his involvement in Scotia Festival will cease. "I'm stepping down, but I'm going to stick around and bug the team for another couple of years. I'm not retiring completely."
Brandon Young is a journalist from Halifax constantly in search of local art stories...as well as his next pair of dad shoes.