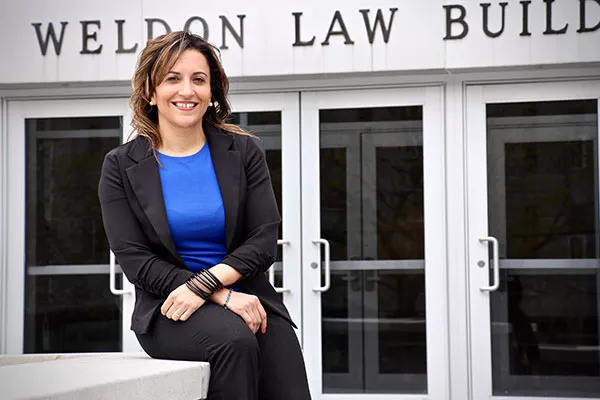 Angela Simmonds' path to law school wasn't a conventional one. When she arrived at Dalhousie University's Schulich School of Law in 2014, she was 38, married, the mother of three children and working part-time.
That summer, the Nova Scotia Barristers' Society hired her to carry out a community-based research project on North and East Preston residents' concerns that their land was being expropriated by the City of Halifax.
The problem dates back 200 years, when Black Loyalists were given land without legal deeds in North Preston by the government. Residents without deeds can't legally pass on properties to their families, which means their land could be sold off by the Crown.
As a result of her research, Simmonds wrote a report titled This Land Is Our Land: African Nova Scotian Voices from the Preston Area Speak Up. For her continuing efforts on this project and her commitment to human rights, the Nova Scotia Human Rights Commission honoured her in 2017 with its Dr. Burnley Allan "Rocky" Jones Award.
And on October 20 in Toronto, she'll receive a Pathfinder Award from the Canadian Association of Black Lawyers, which honours those who have used their legal education in a non-traditional manner to make significant contributions.
Simmonds grew up in Cherry Brook, an African Nova Scotian community outside Halifax. She'd always had a passion for helping youth and was hired as a community outreach worker in the public school system in the Preston area.
"I began seeing systemic institutionalized racism in the schools, and I wanted to be at the table to effect change," says Simmonds. "I realized that law was the best way to be included in those conversations."
Law school was challenging, and there were times when Simmonds questioned if she could finish. But giving up wasn't an option. "My husband, Dean, and I instilled in our children the value of hard work and continuously tell them if you don't achieve a goal on the first try, you simply try again," she says.
All through first year she worked part-time, and for the remainder of law school she worked as the community liaison for the Nova Scotia Barristers' Society while staying active in her community. "It was challenging to juggle law school, work and a family—I didn't sleep much!"
Simmonds continues to be interested in social justice, access to justice for everyone and advocating for her community, not just in Halifax but all of Nova Scotia. "I'm excited about making a change as a lawyer as well as a community advocate. I am very aware that respect and privilege come with a law degree."