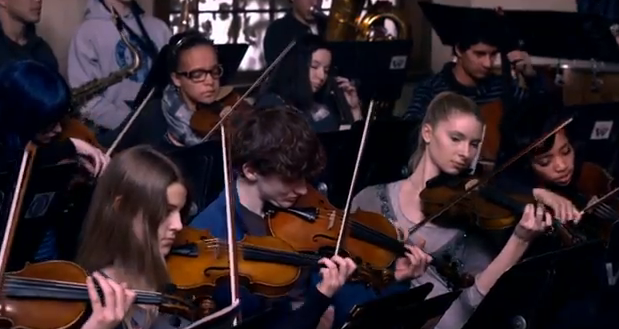 Today choral conductor Christina Murray circulated a message that has all the heart-warming goodness of Here Comes the Boom, but without all the bodyslamming. Get in touch if you can help.
"Dear Music-making friends,
Rockingstone Heights School, in the Spryfield area of Halifax, has a dedicated music teacher trying to make a program work where there is no extra in the budget, no band instruments, and no music stands. In one short month in the school she has fostered incredible enthusiasm for music and has kids clamouring to sing in choir and play in band. Despite having many children registered for band (which is part of the curriculum for grade 6 onward) there are just no extra resources for them and affording to buy or rent an instrument is not an option. For the first month of the year, she has been teaching them music theory and using body percussion so they can "play."
She's managed to borrow stands from another school but she is in desperate need of instruments. So, we are holding an instrument drive to try to give these kids a fighting chance to have music in their lives. If you have any old wind, brass, or percussion instruments collecting dust in your closets or if you would be open to renting an instrument for between $13 and $43 per month (depending on the instrument type and whether it's new or used), we would be so grateful!
Thanks for considering this and please feel no pressure. We just wanted to extend the invitation to you in case you were interested in the opportunity to assist a musically-interested young person! I've attached a link below to information about the Long & McQuade rental program if you'd like to know more. The instruments are fully protected against theft, damage, and loss, so there's no risk.
http://www.long-mcquade.com/imgs/2012-2013%20school%20band%20rentals%20flyer(1).pdf
Thanks again for thinking this over! Christina Murray,
conductor :: vocal coach
singingmurray@gmail.com