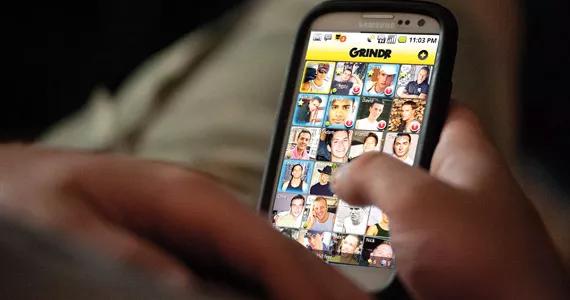 If love is a battlefield, then hooking up can be a minefield. When it comes to dating, there are social cues and rules to follow. Drinks, dinners---or at least coffee---are to be bought. All of this work is for possible--- not proven---outcomes of companionship, friendship and ultimately, sex. Sometimes, you just want to forget the hubbub and skip right to the sex. And if you're a guy who has sex with guys, getting off can be as easy as turning on your phone.
Over the past couple years, there's been a steady stream of smartphone-based dating/cruising apps. Apps like Grindr and Scruff are like most online dating sites: you fill in a profile, and start looking for Mr. Right, or Mr. Right Now. But these apps use the phone's GPS to tell you how close you are to your next possible hookup. He could be less than 100 metres away.
So for all of you starting school this year, or coming back after a summer away, here are a few tips on how to navigate hooking up online with the least amount of hassle and the most amount of fun.
1. Be honest
This may seem like an obvious thing, but honesty is the best policy. Say who and what you are, as well as what you want. Make sure your pic is of you, not some random porn star from Montreal. (Yes, this happens. Stop it. You know who you are).
Nick is a 21-year-old from Sackville who is studying arts. He once met a guy who said he was 23, but didn't look 23 in person, let alone like his photo. "He looked to be in his early 30s," he says, "which I'm fine with. It's just the fact that he was most likely lying, I wasn't cool with that."
Also be honest about what you're looking for. Some people use these apps to just chat, flirt and go on regular dates, and more often than you think. But if you're looking for XYZ, and the other person is only looking for Y, the two of you can decide if Y is enough for now, or if it's time to look elsewhere.
2. Don't get offensive
For some strange reason, people think online spaces give them a venue for being idiots. Biographies that read, "No fats, no fems, no Asians, must be clean, real masc men only, etc." translates to "rude, bullshit, asshole."
I get that you have specific reasons for being here, and want to cut to the chase, but really, you're just limiting yourself and alienating other people. Talking like that makes dicks soft, not hard. This is why there are entire websites devoted to phone app douchebaggery (douchebagsofgrindr.com).
Keeping that in mind, if you are on the receiving end of some stupid comment, don't stoop to their level. That's what the "block" option is for. It's the one time where passive-aggressive behaviour can be satisfying and appropriate.
3. Remember, the internet is a public place
Just because you are alone on your phone, it doesn't mean no one else can see you. Your photo is online, meaning that you are, right now, being seen in a specific place. It's the same thing as if you were in a gay bar.
So treat it as such. Don't be surprised if someone mentions having seen you there. And don't be a dick about it to others if you bring up seeing them there. And by the way, even though sending dick pics is almost a rite of passage these days, but think about where they may end up.
(Remember Anthony Weiner? Different circumstances, repeatedly, but same schtick.)
4. Respect yourself
If and when you do meet someone, be responsible for your actions---you can't expect them to. Know your needs and limits, and respect them, and make sure the other person involved knows them too.
That way everybody gets what they came for. a