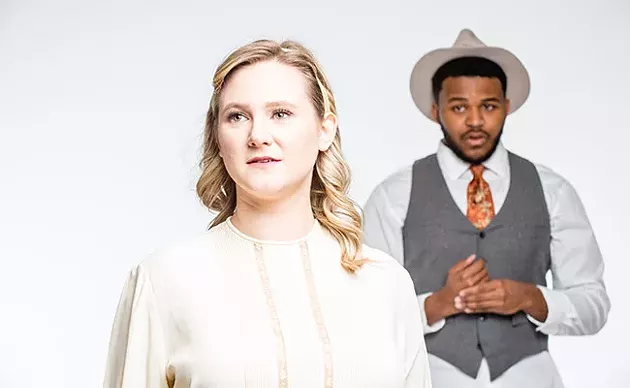 Salt-Water Moon
January 30-February 18
Neptune Theatre, 1593 Argyle Street
$29-$36
neptunetheatre.com
Many would call Salt-Water Moon one of the best plays in the Canadian canon, and Martha Irving would agree. It was written in 1984 by Newfoundland ex-pat David French and has graced countless stages ever since.
For Neptune's production, previewing Tuesday and opening February 1, Irving takes the reins of the two-hander, which follows a pair of exes on a moonlit evening in 1926 Newfoundland. Jacob (Nathan Simmons) has left his hometown for Toronto but returns when he hears word of Mary's (Kelin Boyd) engagement.
"Mary is waiting for her fiancee," Irving explains, "but in walks her ex-boyfriend who disappeared a year ago without telling her. He spends the evening under the full moon, trying to win her back."
Irving describes French's play as a poetic depiction of the things we do for love, but also imbued with the humour and playful storytelling of Newfoundland.
"There's a long history of storytelling in Newfoundland," says Irving. "It's a part of their history and their identity. One of the reasons why I love this play is that David French was really introducing Newfoundlanders to Toronto at the time it was written."
Boyd, playing Mary, is from Newfoundland, and hopes to portray her character with a sensibility she knows well.
"Being from Newfoundland, it's such a honour to be in this show and bring what I know about being a Newfoundlander," says Boyd. "The way Jacob and Mary tell stories is such an important part of the show. This is what we do. This is how we carry on. This is how we get our points across. It also makes me a little homesick."
Simmons, a born and raised Nova Scotian, is making his Neptune debut in the role of Jacob. "I love the script and I love the storytelling," he says. "It's a really honest portrayal of someone trying to hide their feelings, but also open up to love. There is this interior struggle that's seething under his flesh the whole time and it hits you right in the gut."
While this is the first time Irving and Simmons have worked together, Irving worked with Boyd while she was a student at the Neptune Young Performance Company. "I'm excited for audiences to see these two actors," says Irving, "and I'm excited for audiences to see one of the most beautiful Canadian plays.
"We need a little warmth and love in the winter months," she adds. "And this is the perfect play to do that."