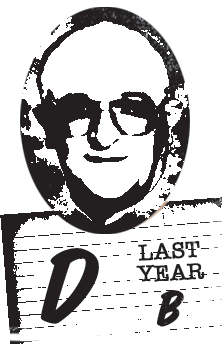 2010 grade: B
2009 grade: B-
2008 grade: C-
2001 grade: D
Russell Walker "gets kudos for keeping 'tax reform' at bay," I wrote last year, "but I don't see him keeping these sort of grades into the future." And sure enough, here he is, being dinged two letter grades.
Walker's most public presence comes via his position as chair of council's Grants Committee, which doles out a lot of the city money given to non-profits. He can be cantankerous and defensive when anyone dares question the decisions of that committee, which is all well and good, but recently auditor general Larry Munroe slammed the entire granting system and issued a report calling for an "immediate" 15 percent reduction in the grant budget, saving the city $800,000 a year in administrative costs. As chair of the grant committee, Walker is the most directly implicated politician in that waste.
More, before he issued the report, Munroe brought the recommendation to the Audit Committee, which Walker also sits on. "Walker noted that rather than reducing the Grants budget by 15 percent it should grow by 15 percent as the number of requests increases each year," reads the minutes of the March 16 meeting. That resistance delayed any action by either committee until at least June, which arguably cost the city at least $200,000 in wasted funds.
How to improve: Listen to the auditor general.