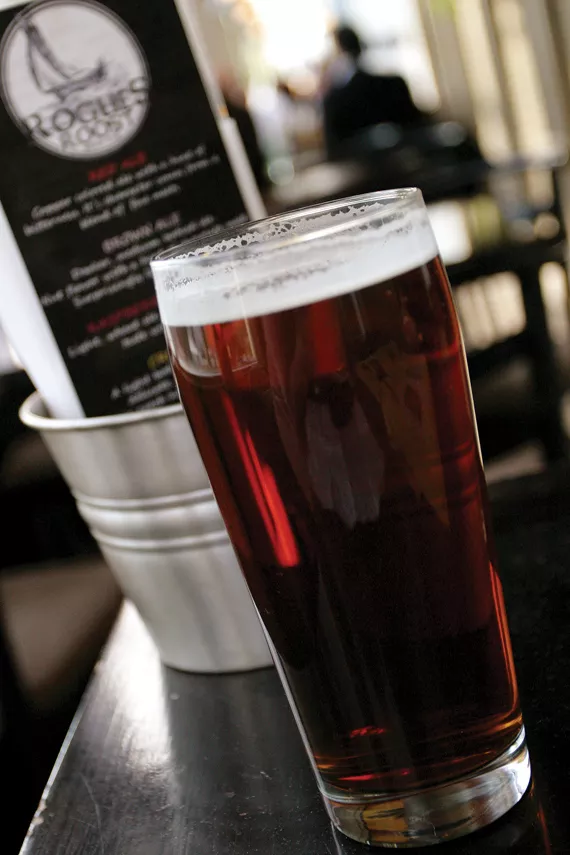 One of the first things Doug Johnson did when he first decided he wanted to get into brewing beer back in 1998 was put an ad in the Globe & Mail. He was looking for the perfect brewmaster. With a stainless steel set up (built by PEI's own brewery builders DME International) and new recruit and beer chemist Lorne Romano onboard, Rogues Roost (5435 Spring Garden Road) opened in March 1999, serving (despite much push from other breweries) nothing but its own creations on tap, an incredibly uncommon trait for a Nova Scotian bar.
"On a good day we'd make three beer," says Johnson of the early days when the now award-winning Rogues won over its regulars by offering up samples of its additive- and preservative-free house brews. "Now we have six on tap at all times, 12 different beers a year. We're always doing something new. It's a real art."
Focussing on making tasty, drinkable beers (not weak, but not extreme) and "restaurant food at pub prices", Rogues has kept up its busy neighbourhood pub vibe over its 15 years, sticking with brews and menu items that work—the red, brown and cream ales have been brewed since day one—and bringing fresh ideas to the table. Johnson now has a second brewmaster, Jake Saunders (full disclosure, a relative) working in the lab with Romano—"They both do their homework and come up with something unique"—and this year the bar also started running proper brewery tours and selling take-home growlers.
"To find good staff is hard and we've got some really good staff," says Johnson, crediting his strong lineup for part of the bar's success. "Your people are so critical, you need people who like what they're doing." You can cash in on the celebrations at the brewpub through March 15, Rogues has all burgers on for the "old school price" of $6.99 and has extended its happy hour from 4 to 8pm.