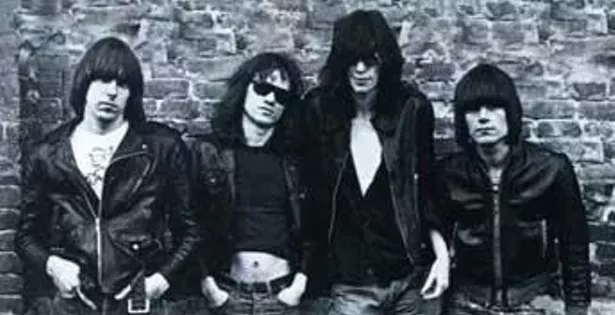 Nursing a 3:30am bedtime the night before, yesterday I went to go see music legend Seymour Stein's keynote speech at the Delta (how very rock 'n' roll of me). Stein started his music career at 13, working for Billboard and later went on to form Sire Records, which basically makes him responsible for all the music you listen to today. Dude signed The Ramones (even though other music managers threatened to pull their bands--Stein had awesome stories about bringing them into the studio for an hour where they blasted through something like 13 songs in 15 minutes, and then made a deal for the next 45), The Pretenders, Talking Heads, Depeche Mode, Madonna, Echo and the Bunnymen, The Smiths, The Cure, etc. And now Meaghan Smith. He's a big believer on the power of the song--he only heard one song by Madonna, and look how well that turned out. Cha-ching.
Stein was being interviewed by Billboard's Larry LeBlanc, who is your typical music blowhard. He obviously lives this stuff, and knows a lot too (he reminds me of the guys in high school who would make me feel stupid for not remembering the name of track four on blahblah's longlost Japanese import album) and has been on the scene forever. His interview questions did get a bit on the wanky side, but that's to be expected and entertained, especially in a room filled with industry people.
I left early while they were still reminiscing to catch the media screening of Patti Smith: Dream Of Life. After listening to Stein talk, I was really looking for lots of archival footage of CBGB's and the Chelsea Hotel, but the doc focuses more on the last 10 years of Smith's life, after her husband passed away. There was very little from the 1970s, although there is an amazing scene of Smith (looking very young and Feist-like) reading a poem, and being obviously very shy, coy and giggling, traits you would never associate with such a strong woman.
What I love the most about Smith is how true she's stayed to her poltiics and to her poetry. Her hair hasn't changed, except that it's greyer, and even though she now wears Comme des Garçons and Prada (she points it out), Smith's jacket is often dirty and dusty, and her pants are always baggy, hanging over big black boots. That, my dear, is an icon of cool.
Speaking of all things rock, I met the lovely Eileen Yaghoobian, whose film Died Young, Stayed Pretty, about indie rock posters, I really enjoyed. She's uncovered a unique outsider culture (a mix between music and graphic design freaks--wow) that is about as opinionated as they come (think Helvetica for poster poles). Yaghoobian did everything herself--produced, directed, shot and edited--but my guess is that she won't have to do that again. Check it out Saturday at 4pm, Park Lane.