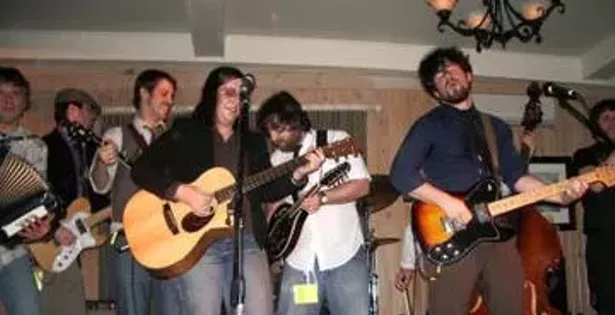 After the showcases wrapped up on Saturday night I gave in to some (not-so) heavy persuasion to leave Lane's Privateer Inn where my room was conveniently located two doors down from where the entertainment was taking place to hopping into a shuttle bus and embarking on a long, slow, slippery journey out to White Point to experience the "after party". Oh, and P.S. kudos to Gerri, the awesome volunteer who drove the lot of us out there in the middle of the night. The volunteer drivers that night were incredibly patient and right on and the party couldn't have been such a success without them.
We walked in as The Tom Fun Orchestra was playing. Now, being a Cape Bretoner myself, I have been a frequent flyer with this band from the Island. I go out to see them pretty much every chance I get. Their organized chaotic mass of guitars, bass, fiddle, drums, mandolin, accordion, trumpet and vocals is so insane that you can't help yourself from moving your entire body. The Orchestra was definitely a highlight and all the buzz of the night. Later on in the night Lennie Gallant approached me and said, "Did you see the Tom Fun Orchestra? They're my new favorite band!"
Performers signed up to play at the White Point after party, some making up for gigs lost because of power outages in the area, and some just wanting to have some fun. I caught acts by Carmen Townsend and the Shakey Deals, Dammien Alexander and more. More performers signed up on the list than there was time available in the wee hours of the morning. By about 5:30 a.m. my eyes were starting to droop but I was forcing myself to keep at it. It was elbow to elbow crowded in the halls and the music didn't stop. There were a lot of red eyes and Red Bull floating around. Parties like this don't come along every week.
The White Point white out was more of a blessing than a curse. The snow storm brought everyone together in a way that can only be done with the Nova Scotia hospitality that is like no other.