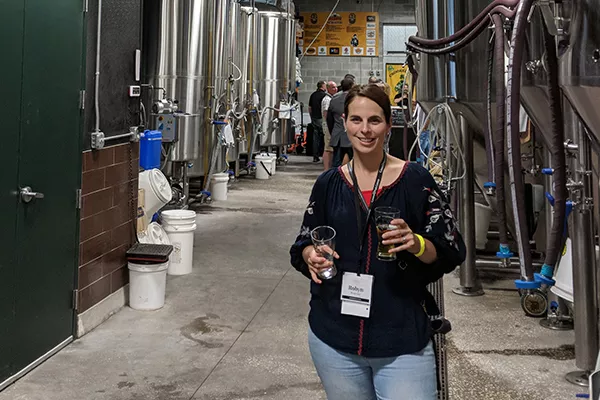 Craft brewing is hard. Just ask Robyn Warrier. She's no brewer, but she knows her stuff: temperatures, glycol levels, flavours, fermentation. She knows all about the manual labour, the cost of losing a vat if something goes wrong. Warrier is the CEO of WarrierTech, a data collection company that works with scientists,
researchers and engineers to track different communications and assets, and then retrieve and store the data. But she never thought she would find herself dabbling in the craft beer industry as well.
"People are now seeing value in all this data and recognizing that it can be used for a lot more than just the day to day stuff," says Warrier. "It can tell quite the story." Warrier and her team were originally out to design a new kind of sensor-data collection device—referred to by Warrier as the "black box"—when they were approached by a curious friend and craft brewer wondering how their device could help him in his industry. With a few adjustments, they came up with the BrewCloud: a sensor-data tracker for craft breweries with built-in cloud storage, an app and remote accessibility. It's the first of its kind and it's changing the game for smaller breweries.
"We spent a lot of time, a lot of researching, and there really isn't anything," says Warrier of the BrewCloud. "We saw a real need within this industry." According to Warrier, the BrewCloud app tracks and saves sensor data to the brewer's phone, laptop or tablet. They can also set parameters on things like temperature, or glycol (a cooling agent used in brewing vats). If something goes wrong, or goes outside of a set parameter, the brewer gets a notification, meaning they don't have to be constantly worried about or watching over their brews.
"We're giving them the tools so that they can now visualize their data, they can now see outliers, trends, they can see if their fermentation is going to be high or slow, we have all those formulas built in," says Warrier. It also makes tracking data not only easier, but smarter, and more perceptive. Warrier hopes the technology will help brewers make "actionable choices" based on data patterns. "Our software, it gets to know the recipe over and over again, and we want to be able to predict things before they happen."
"I think there's a big shift," she says about the move away from the "pen-and-paper" approach typically used by brewers. "I think technology is evolving rapidly and not only that, it's now becoming inexpensive to do things."
Warrier says price and accessibility were key when they started designing the BrewCloud system. She wanted to create something cheap and user-friendly, something local craft brewers could install and monitor on their own.
"We're really looking to help the small guys, level that playing field," she says. "The big guys figure it out, and they have the money and they have the resources to put in different procedures in place, but we're looking to help
the little guys."
So far, Warrier's BrewCloud has been
betatested
by six local craft breweries around Nova Scotia. They've also presented their software at a trade show in Florida this past month, hoping to expand outside of Canada in the
future.
It's not just breweries that can use this kind of technology, says Warrier. In the future, she hopes they can adapt the system to work for wineries, distilleries, cideries and even dairies.
"It's about finding a way for everyone to succeed."