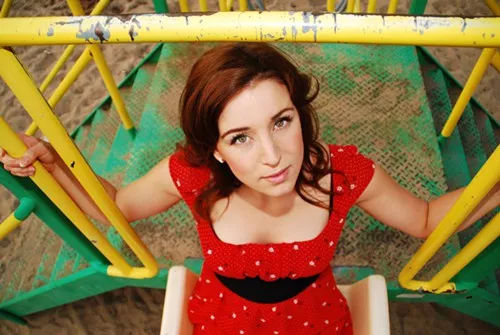 Robyn Dell'Unto is a relatively new face on the Canadian singer-songwriter scene, but if you've seen the cute video for her song "Just a Bird" off her debut album I'm Here Every Night even once, you probably remember her. Dell'Unto attracted many stares as she marched down Toronto streets in a giant bird costume, and each baffled look is captured in the video to amusing and surprisingly sad effect. It was also the summertime, which Dell'Unto said made things interesting. "Those were two of the hottest days all summer and that suit was a sweat trap," she says in an email. "It was unbelievable. I unzipped it between every take. People walking by kept asking if I was hot and I got so tired of answering I'd just look at them blankly."
Dell'Unto writes sweet, winsome little songs that seem ideally suited to scoring scenes in TV and movies - and indeed, her music has been featured on Being Erica, Harriet the Spy, Unstable and a few others. Dell'Unto's dream soundtrack is Grey's Anatomy, but "I think I'd also fit really well on Cougar Town," she says. "I was embarrassed to watch it first but the show and the soundtrack are really well done."
This weekend she'll be opening for Craig Cardiff at the Company House (tonight and Saturday, $10/$15, get tickets here.) While it's her first time out east, she says excitement often overcomes the jitters of meeting a new audience: "I find new crowds don't really care if you've had a song on a TV show or a video on MuchMusic. You're always starting from scratch, which can be a really good thing, " she says. "It's your long-time fans that get excited about your accomplishments, and it's up to the live show to turn a new audience into long-time fans."