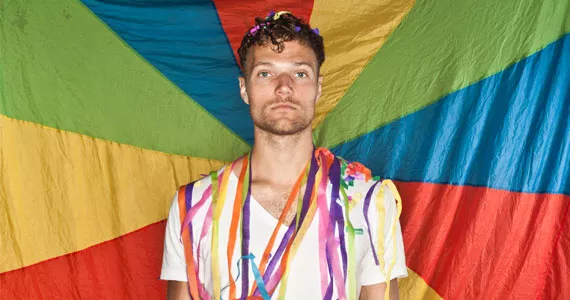 It's not easy to pin down Rich Aucoin. His music is a mishmash of Brian Wilson-esque harmonies counterpointed with Daft Punk beats. But if you're trying to pin him down geographically, his tour itinerary reads like an indie-rock cover version of "Around The World in 80 Days." Belgium, France, Winnipeg, Iceland. This man is literally all over the map.
Thankfully, he plans on landing in his hometown during Halifax Pride, where he will be playing a live show at Friday's Out Dancing (Garrison Grounds, 8pm, $10/$15). It's the first time a live musician will perform at the traditionally DJ-driven dance event. According to Adam Reid, communications coordinator for Halifax Pride, they wanted to do something new. "Rich's name had been thrown around the table," he says, "And he seemed like a perfect fit for the event. So when his team expressed interest it really wasn't a hard decision to make."
"I'm excited to be a part of this and it's such a great celebration of a supportive, welcoming and fun community," says Aucoin. His shows are known for their audience participation, and he's looking to amp it up for Halifax. "I look forward to having a big production for this show with my full band, projections, confetti and this new giant parachute I've got now that can cover over 1,000 people," he says. Aucoin is enthusiastic about playing to a hometown crowd after touring Europe for two months. "I couldn't think of a better thing to be a part of for when I return," he says.