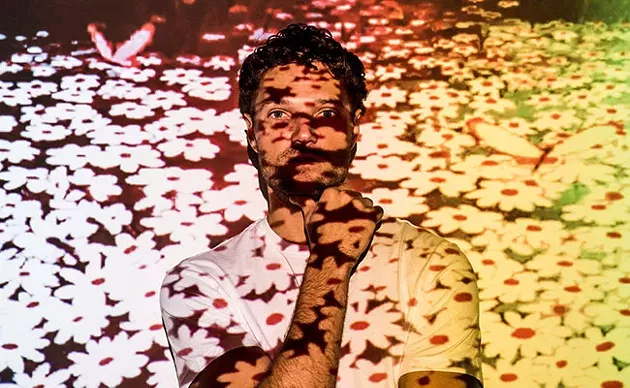 Rich Aucoin Hold EP release w/Chudi Harris

Thursday, March 15, 9pm
The Seahorse Tavern, 2037 Gotttingen Street
$15
After talking bit over the phone about his meditative songwriting method—a process influenced by his King's philosophy degree—Rich Aucoin off-handedly sums up his artistic ethos in one succinct sentence: "You don't have to wait around for a birthday to celebrate life."
One needs only to glance at Aucoin's career to see this attitude permeates his life as well. His upcoming US tour will be powered by his own two legs, on bicycle. His shows are wild with confetti. And his video for "Release," from the new Hold EP, finds him floating statue-still in the same waters a titanic great white named Hilton was gliding through. During four long takes, he kept telling himself there had been no shark attacks in Nova Scotia, to quell the fear and stay static.
"I didn't wanna look dead," Aucoin says. "I just wanted to look really relaxed."
The video, the song and the EP are all deeply hypnotic and heavily layered. They're a preview of Aucoin's coming full-length, comprised of singles and accompanying videos (each by different filmmakers) to be released every three weeks after Hold. Limited to 30 physical CD copies at Thursday's gig, the EP lays the groundwork. Keeping with his habit of creating "alternative soundtracks," Hold provides multiple hints as to what classic film the full-length syncs up to, and Thursday's Seahorse show will give it away with accompanying visuals.
You might be able to divine the flick via the tunes—psychedelically cerebral without sacrificing heart-swelling emotions, celebrating life while confronting its inherent heaviness. Kinda like floating in an immense ocean, contemplating mortality while your imagination conjures the sharks circling your body. "I'm not interested in just singing about partying and stuff like that," says Aucoin. "I wanna sing about things that matter."