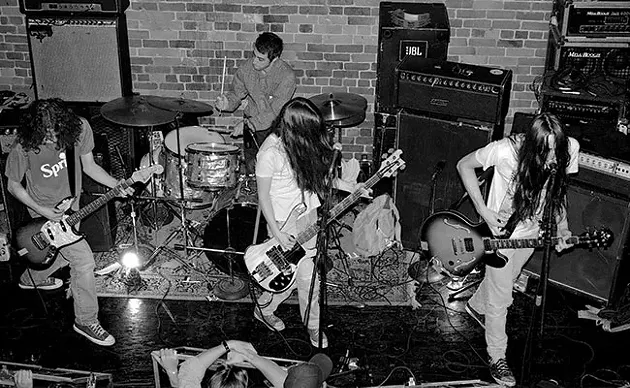 Author and musician Jason Murray decided to write A Distorted Revolution—his part-memoir, part-rock bio about Moncton's own Eric's Trip—after seeing a poster of the band in Sydney, Australia on the wall of a record store, and talking to the staff about their love of the band from his own hometown. "After I left I started thinking, these guys still have this impact, there's still people talking about them and people that love them," he says. "People are still passionate".
An intimate understanding of the source material helped. Murray went to junior high with Rick White and Chris Thompson (who, along with Julie Doiron and Mark Gaudet, made up the band), and used to skateboard with them. "One day we heard music coming from Chris's house, they were jamming and they weren't skating as much lately. I asked if they'd come out to skate and Thompson said 'no, we're starting a new band' and I asked what they were called and he said 'Eric's Trip,'" says Murray. "The rest is history."
A Distorted Revolution is a look at the profound influence of local musicians, the transforming effect of live shows and a history of one of the most influential bands in Canadian indie rock.
Available now via Nimbus Publishing at Taz Records and Chapters, read an excerpt below.
---
Built on the sounds of Purple Knight's more melodic grooves, Bad Luck's straight-ahead punk rock, and The Underdogs's hardcore, tear-it-all-down jams, Moncton's new sound was starting to evolve. Long winters with nothing to do kept people in their basements and garages playing music. The sound was aggressive because people were angry; it was dark because people were bored and they longed for something more than what they had; it became melodic and catchy because the new generation grew up on Top 40 music.
Rick and Julie played well off each other, and the confines and safety of the basements made for easy experimentation. Recording everything on the cheap, they had the freedom to decide whether anyone would ever hear their music. And they never really expected anyone to. They could put it together as a cassette, CD, or vinyl, or not. This attitude allowed them to be creative for creation's sake. To simply make art as they saw it. Downstairs in Rick's parents' house—a cluttered '80s bungalow with faux-wood panelling and a drop ceiling, littered with Coca Cola bottles, tapes, and knick knacks—was a sanctuary where he and Julie tried new things sonically. Rick recorded everything on a primitive 4-track cassette recorder. As the band listened back to what they played, there was something real, raw, and true to what they heard, mistakes and all. "We were having fun, experimenting with sounds and playing them back," Julie remembers years later. They continued to play and practice for the next few months in relative isolation.
The band's heavy, distorted sounds and noisy guitars were an interesting contrast to the mellow vocal harmonies of Rick and Julie. The loud and soft mirrored the contrasting aesthetic, manic and mellow, they would later project in photos and on stage; the music manifested the mood of those all around them. Grey would be the feeling of the generation, the feeling so many would relate to at the time and how their peers saw the future. Not a ton of hope. a
© Jason Murray
A Distorted Revolution: How Eric's Trip Changed Music, Moncton, and Me published by Nimbus Publishing, 2017. Reprinted with permission.