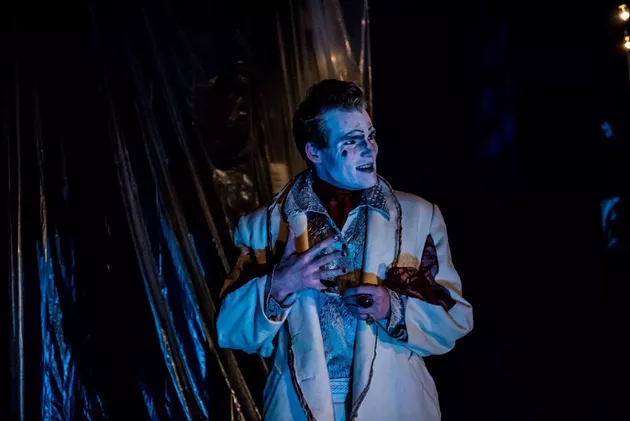 Director and writer Dan Bray adapted
Tyrant
from the early-17th century Jacobean play by Thomas Middleton. It tells the story of Govianus (Sarah Deller), a deposed king seeking revenge on their usurper, the unnamed tyrant (Ira Henderson), and plans to do so by stealing the object of his love, the unnamed lady (Colleen MacIsaac). Scheming ensues, then violence, then even more twisted violence, with a few songs scattered around for good measure.
As the title promises, this is an archetypal story of tyrannical power, painted with broad strokes, but certainly not without its relevance. It is a simple, timeless tale of people ruined by power and is told with much aplomb. Unsurprising of a play of its time, however, the women are mostly sidelined and their motives remain dictated by the men around them. This is a story of male power in a male world, and the women are mere pawns in their game. Casting Deller as the former king does give this old trope a slightly upgraded look and allows for a queer reading of the love between Govianus and the lady, and of the actions of the tyrant whose power might be threatened by the love of two women.
The world created by Bray and his team of designers is an impressive one. The costumes by Emlyn Murray are a wonderful combination of styles, and the set design by Patricia Vinluan is spectacular, with the Tyrant's throne ominously positioned to overlook the action of the hoi polloi below. The music by Garry Williams, who also plays Helvetius, is haunting and ethereal, and elevates many of the play's best moments. All told,
Tyrant
is a valuable examination of power with great design and a bold vision.
Tyrant

Presented by The Villains Theatre
Directed and adapted by Dan Bray
Based on the play by Thomas Middleton
The Waiting Room
6040 Almon St.
October 17-22
$15-$25