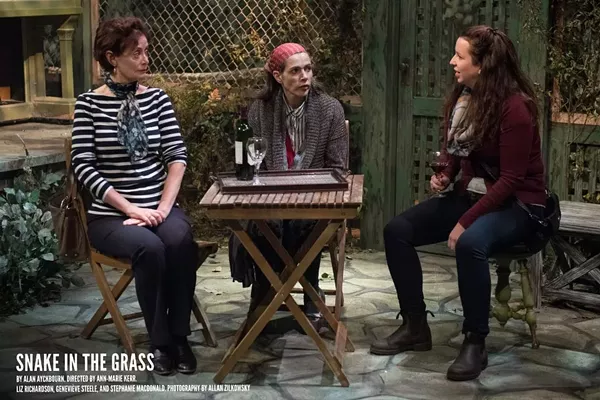 The set of Snake in the Grass is an intricately designed backyard terrace with a dilapidated shed and overgrown tennis court. A woman enters from the brush looking rather like a goblin, and plucks a spooky tune at the piano. She scurries away when she hears someone coming to the house. We learn that this is Miriam (Genevieve Steele) and the woman who arrived is her estranged sister Annabel (Liz Richardson), who has returned home after the death of their father. On the surface, Annabel is the worldly one who has lived a glamorous life, and Miriam is the hapless one stuck caring for an ailing father. Throw in a nurse (Stephanie MacDonald) who suggests Miriam killed the old man, and you've got yourself a mystery.

With its plot twists, ominous lightning flashes, and a seemingly haunted tennis court, the play proceeds in many ways like a typical thriller. The set, however meticulous, seems more Hansel and Gretel than an unkempt British garden where a family drama is unfolding. Miriam, too, seems out of a different play altogether. Steele's broad, impish portrayal of the character detracts from a woman that could otherwise be relatable as a person who suffered unspeakable abuse at the hands of her father. Instead we get a few degrees short of a woodland creature with hunched shoulders and false teeth.

Snake in the Grass is an odd duck. All of the performances and the production elements on their own are interesting and full of bold choices, but don't work to tell the same story. It is a confusing, albeit very competent, mess.