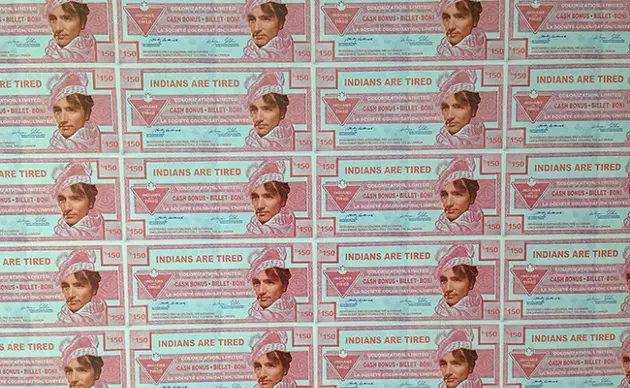 The De-Celebration of Canada 150
Artist talk July 11, 12pm
To July 15
Khyber Centre for the Arts
1880 Hollis Street

Raven Davis doesn't pull any punches. With a practice fusing art and activism, the last few years have seen the 2-Spirit Anishinaabe artist dancing on a Canadian flag splattered in red paint, bringing racist troll comments into the gallery and denouncing the university system in favour of Indigenous pedagogies.
Davis' latest body of work is titled The De-Celebration of Canada 150, culminating in a series of performances and an exhibition currently on view at the Khyber Centre for the Arts. For Davis this de-celebration takes the form of breaking down colonial histories, and recognizing the structures and figures that enforce them. From the church to the RCMP to Trudeau, Davis is naming names.
One such name is that of John A. Macdonald, etched into the name tag of an air force uniform. The jacket is decorated with paper medals, a draping rope and cormorant feathers, and badges climbing up each arm. But as the title "Tunic of Canadian (Dis) Honour" might suggest, these badges awarded Macdonald are far from congratulatory, embroidered with statements such as Environmental Racism and Genocide.
Many of the works in the show follow this vein, unabashedly calling out historic and continuing instances of colonial violence. "Look and Live" brings forward histories of the church and residential schools, while a music box and whiskey decanter in the shape of a Mountie, a found object that Davis has titled "Genocide Enforcer," speaks to how law enforcement in Canada affects Indigenous peoples. The Mountie figure has its own place in the exhibition as well as a feature role in the multimedia projection "Whiteness is Civility," where it can be seen twirling and playing a tinkling rendition of "O Canada" against the backdrop of an all-white Canadian flag.
Other works, such as "Child's Play for Them, Murder for Us," an installation mimicking a carnival bean-bag toss game, call out the Canada 150 celebrations themselves. In "Doctrine of Discovery Pass," two walls are lined with photographs from reservations, each then edited to resemble a Parks Canada 150 discovery pass. "Get curious and discover Canada's unique hidden treasures...Take a journey in time and explore the abandoned homes of Canada's most precious first peoples...A Truly Authentic Canadian Experience!" reads one of the prints.
The work does not employ much subtlety, but the same could be said of the Canada 150 fanfare sweeping the country (a certain six-storey rubber duck comes to mind). By calling out these histories Davis is raising the question: What exactly are we celebrating? And furthermore, who is that celebration for?