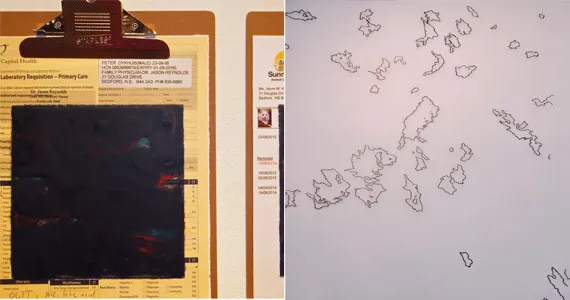 Peter Dykhuis, Peripheral Traces (Dark Heart) and Angela Glanzmann, Bodies & Bodies & Bodies
To February 1
Hermes, 5682 North Street
---
/p>
What would your life look like on a clipboard or in a drawing? Peter Dykhuis explores his life through ephemera in his latest work Peripheral Traces (Dark Heart). His exhibition sits alongside Angela Glanzmann's Bodies & Bodies & Bodies, a project developed through the Centre for Art Tapes Media sponsorship. Both exhibitions play with the ideas of maps, location and sense of surrounding.
These works kick off a new chapter for Hermes. The art gallery is transitioning into an art co-operative that allows members to pay the $100 monthly fee or commit to working in the gallery two days a month. The co-op plans to have monthly exhibitions.
"We want a co-op focused on art distribution in a contemporary art space in the community," says Dykhuis, one of the founding members. "I've had an idea for an artist co-op since 2006. We have a flexible model so artists will have a guaranteed show and they can recover their financial investment."
Peripheral Traces (Dark Heart) is a good start to Hermes' new chapter. Dykhuis uses passive mapping, a technique where artists collect items to tell stories about their lives. The Home Front series, covered with weather-based graphics, shows the artist's quotidian and warm family life. Naturally, economic charts cover the Work Life series. His Art World series, covered with board game symbols is spot on, showing the unpredictability of an artist's career.
In Bodies & Bodies & Bodies, Glanzmann uses her animated drawings to map out our need to know where we are in quiet, intricate detail. The standout amongst the two shows is "Art World #3," which features images of Dykhuis' cat Smudge. Never underestimate the power of a cat selfie.
---
www.dykhuis.ca
www.aglanzmann.tumblr.com