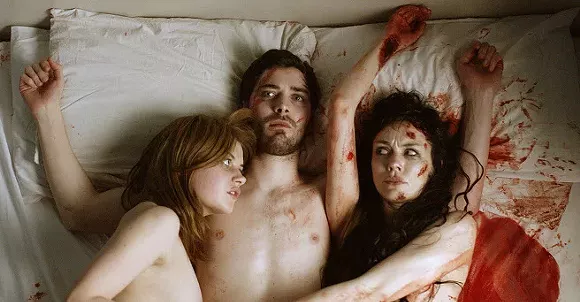 Nina Forever is about a morbid oddball-couple, which, if you've seen Corpse Bride, Let the Right One In, or Only Lovers Left Alive, will sound like familiar territory. Though this British movie (which is being sold as a horror-comedy, but that strikes me as stretching definitions of horror and comedy) barely digs beneath its surface, its matter-of-fact take on death-obsessed love opens it to fresh, honest complications. Holly (Abigail Hardingham) is 19, and training to be a paramedic, in part to save lives, but mostly because it puts her in proximity of death. It's fitting her crush is Rob (Cian Barry), who works in the same supermarket as her, recently lost his girlfriend in a car accident, and has survived a suicide attempt. Their dynamic is already conflicted: She's attracted to his "darkness," even though it's the part of himself he's most eager to purge. Both are equally troubled.

The supernatural element (perhaps imagined) occurs whenever Holly and Rob have sex. In their throes of ecstasy, Rob's bed sheets become saturated with blood, and, evoking Clive Barker, his dead girlfriend Nina (Fiona O'Shaughnessy) takes corporeal form. Writer-director brothers Ben and Chris Blaine smartly divide attention between Holly and Rob's neuroses. Nina's death-spectre represents where Holly is compelled to go, and where Rob can't escape. Nina Forever is almost onto something about how trauma can complicate young adult sexual relations and defer "normal" careerist pursuits, but it's held back by choices narrative and stylistic.

Most damagingly, there's too much Nina. After we see her once, predictable wisecracks in tow, the point is made, and after that it's an effort to push this into genre territory at odds with the rest of the film. The Blaines' style is clinical and detached, when this material demands emotive surrender. As Holly's co-workers mock her taste in men, the filmmakers are checking off a screenplay idea—as motivated cruelty, it's false. Nina Forever sets events amongst drab snow-covered apartment complexes that recall Let the Right One In, but neither character is afforded the inner-life to rise above their reality in a deeply felt way. The fumbled challenge is to approach this couples' unconventionality with the empathy to make it seem like the only rational thing, so that their struggles become our own. The result is a movie that's neither wild nor sad enough, understanding pain from a safe distance.