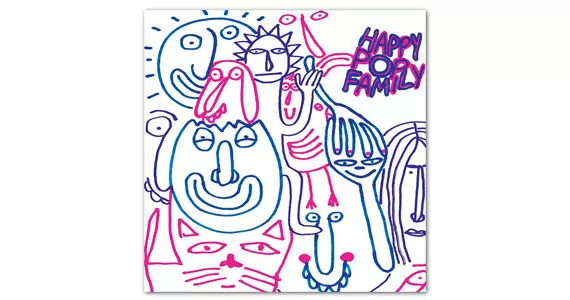 Happy Pop Family (Mint)
Two years after its ambitious Mint Records debut, Monomyth has returned with a new rhythm section and a nimble, buoyant new album, Happy Pop Family. Two thousand fourteen's Saturnalia Regalia saw the band honing in on a slick, spindly style of guitar pop that sanded down some of its rougher edges. By contrast, Happy Pop Family finds Josh Salter and Seamus Dalton—the primary songwriters—exploring a breadth of new sounds and revisiting others that recall some of their earliest releases.
One of the joys of Happy Pop Family is how plainspoken and direct its lyrics are, ranging in subject from shopping for used shirts to screen print ("Re: Lease Life") to dreaming of escaping the shadow of your hometown ("Aloha"). Still, this record truly shines when it revisits the woozy psychedelia and warm harmonies of the band's 2012 self-titled cassette. "Falling in Love" is an unabashedly sweet treat, and the hazy vocals and acoustic guitar of "Go Somewhere" feel like a stylistic revelation for Monomyth that recalls some of Thee Oh Sees' quietest, most beautiful moments. Happy Pop Family isn't content to be siloed into one style—and it's all the better for it.