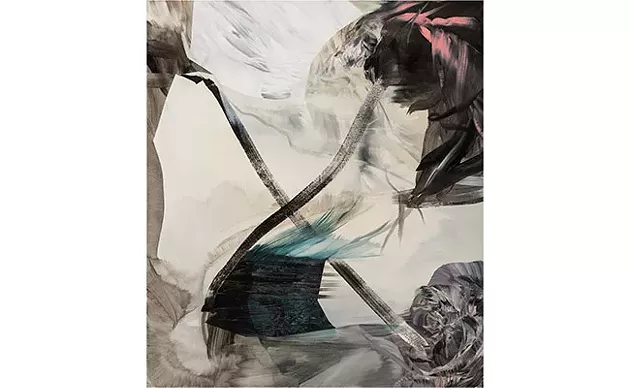 Melanie Authier, Contrarieties and Counterpoints
To March 4
MSVU Art Gallery
166 Bedford Highway
When you think about "drama" in relation to abstract painting, what may first come to mind is controversy. The art form has had its fair share: More than 60 years since painting first concerned itself with abstract formalism (line, colour and shape prioritized over representation of subject and object), visitors to the National Gallery of Canada still stand under Barnett Newman's "Voice of Fire" and ask, incredulous: "We paid how much for this?"
The drama in Melanie Authier's work is of a very different kind. While she grapples with the inheritances of abstraction, she also borrows liberally from other art historical movements of the past. So it is perhaps not surprising then that the inspiration for the dramatic elements of her abstract canvases and drawings can be found in the Baroque's love for chiaroscuro (the contrasting of light and dark) or 18th century Romanticism's concern for atmosphere (think J.W. Turner's yellow fog).
While remaining wedded to abstraction, Authier constructs illusions of small universes, rendering what appear to be draperies, deep recesses and chasms and soft, textural gestures ricocheting off of harsher geometries.
The effect is quite otherworldly. Many of the paintings in Contrarieties and Counterpoints feel as though they could be fantastical concept art for an opera by Wagner: Dark, romantic Ice Caves; secret gardens; Tristan and Iseult in space. While the viewer wants to construct form from these lines, to see hair and body and foliage in the artist's brushstrokes, Authier's vast, untethered spaces are illusions, tricks of the eye—Rorschach inkblot tests on a grand scale.
Authier appeals to this impulse, playing with space and texture and form to mix hints of the material into her abstract compositions, allowing the viewer to cast the drama as they see it unfolding, to find shape and harmony in the chaos.