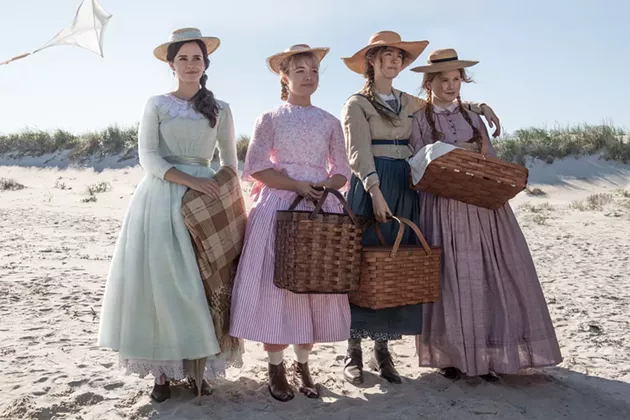 T
here is never a quiet moment in Greta Gerwig's
Little Women
. Aside from the charming chatter of the four sisters, the score underlies every scene: Alexandre Desplat's music shapes the heart of the movie, giving sound to emotions felt and actions shown.
This movie is a melodrama for a contemporary audience. While there were scenes that could do without music (moments whose emotional pull are strong enough—and could have been stronger—in silence) Gerwig's use of sound turns the story into an experience for the screen.
She hones in on sound to build a ironclad sense of time and place, insisting on music and noise and laughter and unheard mumbles and snow crunching underfoot. This rich temporality allows jumping between scenes of disparate places and times without friction, and to create a soundscape lush enough to enfold you in these newfound ways of imagining classic landscapes.
While the movie is clunky in certain places —Meg's storyline swerves from charming to poorly written—it is a testament to the overall power of Gerwig's adaptation of Alcott's classic novel that these moments don't pull you far enough out of the cinematic experience to alienate you from the sisters.
Her movie shines in group dynamics, when it shows the sisters interacting as a family—screaming, fighting, hugging, laughing—you, like Laurie, wish to be a part of their world.
This is thanks to Gerwig's directorial style: the actors are invited to let loose with one another, to foster a relationship that translates to their characters, to throw tantrums or be cruel or kind in the extremes that come from family dynamics and from being a young woman.
Her looseness and freedom and insistence on enjoying becomes the heart of the Americana of this film: her characters dance and sing and drink and flirt in a way that seems totally unbound.
This is particularly true of Florence Pugh's Amy, who is given a chance to shine as a child and an adult, in her love and her hate, her tantrums and her apologies, her vengeance and remorse—and in her dedication to her own success and the success of those around her.
All of the women shine in their small rebellions: be it refusing to marry, marrying for love, playing for oneself, or wanting to have it all—and it is in Gerwig's insistence that each of these desires are valuable, are worthwhile, that the movie is at its best.
The differences (or similarities) in the sisters' desires, wants and ambitions is where the March sisters learn from one another the most . It's also where they grate up against each other most, as is the nature of sisterhood.
Gerwig also wants to offer the viewer the ability to have it all. Her doubled ending—like a choose your own adventure novel—offers two alternative conclusions: one more honest and and one more sentimental. Both fulfill something for the viewer, if delivered in a slightly off-putting manner. We are allowed to want romance, to want tears, and to want something truthful for the characters.
The story sets us up early for a kind of doubled ending: The play that Jo watches at the beginning of the movie is Shakespeare's
Twelfth Night
, a comedy whose conclusion both gives the audience a happy ending (marriage) but simultaneously maintains the homoeroticism of much of the play, thus pulling away from the need for a return to social order that the happy ending represents.
Gerwig's movie follows in Shakespeare's footsteps, giving us both without belittling the sentimental and sincere desire for a marriage plot, while being truthful to her characters and their desires.
This truthfulness is something Gerwig insists upon, and it is for this reason that in the end, her adaptation for the screen, so thoughtful in its rendition for the cinema, is also fundamentally about writing: in centering Jo as the author of her own story—she becomes a stand in for Louisa May Alcott and the writer of the titular
Little Women
—Gerwig can attempt to do justice to both her characters and their literary origins.