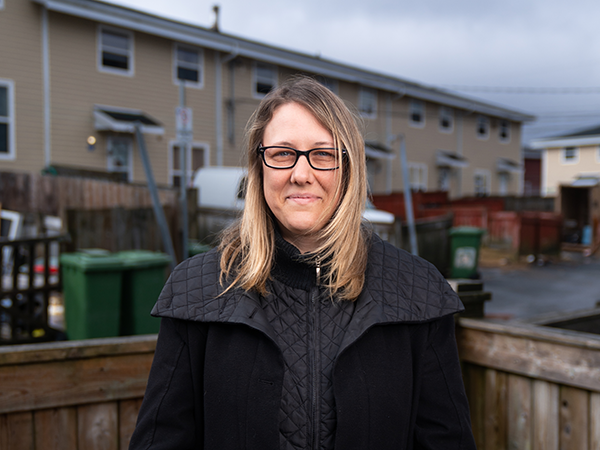 Housing Nova Scotia is on track to meeting its target of applying an additional 500 rental subsidies to reduce the housing wait list.
Last year the provincial government committed to reducing the wait list by 30 percent—almost doubling the number of rent supplements over three years. Rental supplements exist as an alternative to for the 3,000 households waiting for public housing.
But they're not a fix-all solution.
Public housing tenant Jodi Brown was offered a supplement to move into a subsidized apartment, but after doing the math, she declined. "They're really bragging about all these supplements they're going to give out," she says, "but they don't always fit the actual needs of people in housing need."
She can understand why people on the wait list would turn down a rental supplement. To stay within her budget, Brown says she would need a three-bedroom apartment renting for $1,100.
"Now where am I gonna find a three bedroom for $1,100?" she says. It was far more affordable to stay in public housing close to the city.
Brown is not the only one. A freedom of information request filed by The Coast found that in one case last year, an undisclosed developer provided housing through rent subsidies but 30 people on the housing wait list turned down the supplement offered.
Uncovered emails from Housing Nova Scotia showed that one of the challenges it faced was in identifying which wait list applicants were "willing to receive a rent supplement."
Housing NS declined requests for an interview about the supplements, but say in an email, "It is up to the applicant as to whether they want to accept a rent supplement or wait for a public housing unit."
Killam Apartment REIT has 70 to 100 subsidized units facilitated through partnerships with non-profit organizations. Jeremy Jackson, the vice-president of program development, says they've been doing this for almost 10 years and "the current rent supplement program works for us."
Despite challenges in redirecting people from the wait list, Housing NS is ramping up the number of rental supplements to meet the annual target. Still, some say annual targets aren't necessarily the best measurement of success.
"I don't think it's a question of whether it's working, it's a question of how can we make this work better than it is now," says Jim Graham, executive director at the Affordable Housing Association of Nova Scotia.
Even more people could use rent subsidies if it fit their needs, but the expectation is that people on the wait list will "gratefully accept the unit as soon as it's offered to them." In reality, "that's not how it works," says Graham.
Graham would like to see the province use portable rental supplements as an alternative to unit-based subsidies, which would follow the tenant even if they move. "I would hesitate to put a target on it," he says. The real magic is "keeping people housed."
Having hit the first benchmark the province has assigned 2,000 rental supplements to date, and will now work to assign another 500 for the next year.
"It's working," says Graham, "but how can it be working better?"
Housing NS will launch a pilot program to test portable rental supplements this spring.