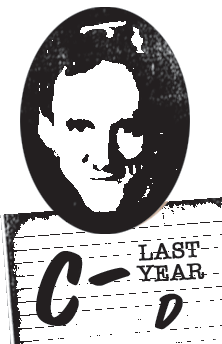 2010 grade: D
2009 grade
: D
Reg Rankin reportedly has a drinking problem. People have told me they've seen him visibly intoxicated at official functions, and Rankin was the main subject of mayor Peter Kelly's secret memo about "excessive drinking." Earlier this year, Rankin allegedly was drunk at a police function and said rude things to a cop's wife. In the end, the police incident was a good thing, because the issue was raised publicly. Rankin took a medical leave from council for a few weeks, having returned last week. He looks great. It will no doubt take personal courage and resolve, and all the help he can get, to stay the course.
Do we crucify Rankin politically for his frailty? I think not. Politicians are human, and Rankin's presence on council enriches us because it reminds us that we all have our faults and struggles, and the best we can do in this vale of tears is help each other out.
More than that, even through his recent drama, Rankin has proven himself to be one of the smartest councillors, adept at handling the intricacies and complexities of government. I don't often agree with him politically, but he's an important voice at the table, as when, for example, he explained to his colleagues how a proposed change in transit policy wasn't as "revenue neutral" as promoters had suggested, and again when he voted against the convention centre proposal because he saw that the financing deal puts the city at tremendous risk.
How to improve: Extend your newfound self-awareness to empathy for those with other struggles, like those hurting financially.