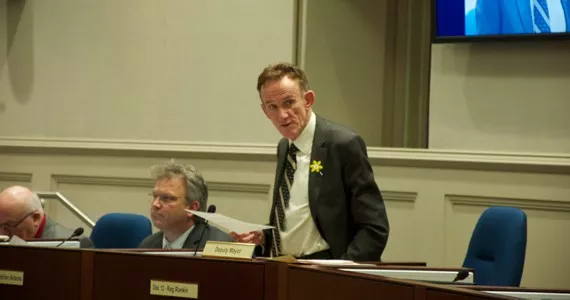 Retiring from council after 25 years doesn't mean Reg Rankin is retiring from the government payroll.
The District 12 councillor has accepted a job offer from the Otter Lake landfill's Community Monitoring Committee (CMC), and will officially start as its new executive director on November 1.
Rankin announced earlier this year that he would not be re-offering in October's election.
"Reg has been working on the Otter Lake file since before the landfill site was selected 20 years ago," CMC chair John Cascadden said in a release. "No one has more knowledge of the landfill operations, the community, the landfill operator and of course, the municipality."
Halifax has provided nearly all of the CMC's funding since 1999, at a budgeted annual total of $65,000. The executive director's monthly salary accounts for 40 percent of that funding.
In February, Regional Council approved a $25,000 raise for the committee's total budget, to $90,000—more than half of which went towards raising the executive's salary (from $25,000 to $37,542, with taxes included).
"Regardless how much time the executive director puts in, he would get this lump sum figure? Sweet gig." —Councillor Lorelei Nicoll

tweet this
At that meeting, Rankin spoke at length in defense of raising the budget for the organization that four months later would wind up offering him a job.
"I wouldn't make the connection at all," Rankin says today, about his advocacy for the budget raise. "I wouldn't isolate the increase. I defended the overall budget."
Rankin had pegged that budget raise as needed for the committee's "increased activity" in dealing with operator Mirror NS now that a new contract has been signed by the municipality, but acting CAO John Traves corrected him at the February meeting that it was merely an adjustment for inflation as CMC's funding hadn't increased in 18 years.
Even without knowing the councillor most strongly in favour of an increased budget would months later be employed by that very organization, many of Rankin's fellow councillors back in February still questioned the vague rationale behind CMC's request.
"What warrants it? What validates this," said councillor Bill Karsten. "I don't see a business case. I really, truly do not see a business case."
The Community Monitoring Committee formed in 1999 to monitor operations and act as a voice for nearby residents of the Otter Lake landfill. It exists as a requirement of the landfill's industrial permit.
The organization is comprised of the mayor, the two local councillors (Rankin and Stephen Adams), another councillor appointed by council, two appointed HRM residents and nine elected residents (most of whom come from the community).

Most of the CMC's funding goes towards consultation services (see below), but the next highest expense is the executive director's monthly salary. Under the increased budget, Rankin will earn $3,000 a month on top of his municipal pension. 

"So regardless how much time the executive director puts in, he would get this lump sum figure?" councillor Lorelei Nicoll asked in February. "Sweet gig."
Rankin is an obvious, if controversial choice for the job, given his dedicated work with the committee and community over the last two decades. Just recently he sided with the CMC over his fellow councillors to support a rushed piece of legislation put forward at Province House by his son, MLA Iain Rankin, to enact new provincial controls for the height of the Otter Lake landfill.
Outgoing CMC executive director Ken Meech (who's also former CAO with the municipality) stepped down from the position on June 15. According to a release from the monitoring committee, discussions with Rankin about taking on the role occurred back in May.
"People can read whatever they want to read into it," Rankin said. "That offer came after that, and Mr. Meech gave notice after that."
Neither Meech nor Mirror Nova Scotia were able to get back to The Coast before deadline about the former executive director's new job.
Aside from consultations and its ED salary, the only other expenses invoiced by the CMC in 2014/15 were $1,500 to Trade Centre Limited for meeting rooms and $318 in administrative costs. The totals—at least as presented to council back in February—aren't broken down any further. 

The society doesn't provide annual reports. Its agreement with HRM only states it can offer written updates on businesses or affairs "at such times and in such form" as the municipality may reasonably require. A paid executive director position is not required under CMC's agreement with HRM.