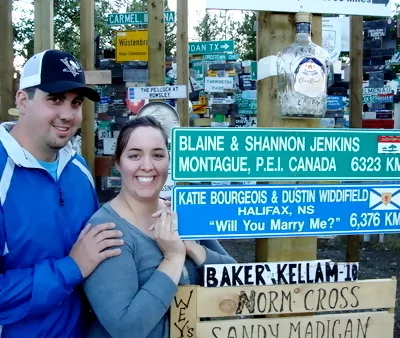 Our special moment started with quite the long road trip. I was working in Alberta for the summer and Katie was going to school at the Mount. So we spent almost 6 months apart before we finally got to see each other.
We had planned a road trip with her sister and husband to Alaska. Along the way was a town called Watson Lake, YK, home to the famous signpost forest. At the forest there are over 80,000 signs from people who have visited. The signs have travellers' names on them stating where they are from and how far from Watson Lake they have come. Our plan was to put up a sign to add to the growing amount. However, come the day of the big trip from Grande Prairie, AB to Watson Lake, YK (which is a 11 hour drive). We boarded without a sign for us to add to the collection, but I had an ace up my sleeve and I'll get to that later.
We got into Watson Lake about an hour before sunset so the sun was just going down as we arrived, which only added to the special plan I had in place. We first checked into our beautiful bed and breakfast on Watson Lake. Then drove back into the town to go to the signpost forest. We got out with only my sister-in-law and her husband's sign. Which was a sad thing for Katie since she had wanted so badly to put up her own sign. I had to tell her I was sorry and that we will try and get up here again sometime. We walked around the forest just looking at signs. Finally, with about 10 minutes of light left, I spotted the blue sign I had made up and shipped up to Watson Lake for us to find. We made our way over and I quickly said "Honey look at this sign!" To her amazement it had our names on it, where we were from, and there on the bottom: "Will you Marry Me?" She turned around to find me on one knee waiting with the ring in hand. First thing she said to me was "did you ask my mom?" I laughed and said I had and then she said yes. With tears in our eyes I slipped the ring on her finger. We were later told that we were the 1st to purpose at the signpost forest.
*As told by Dustin Widdifield, with edits.