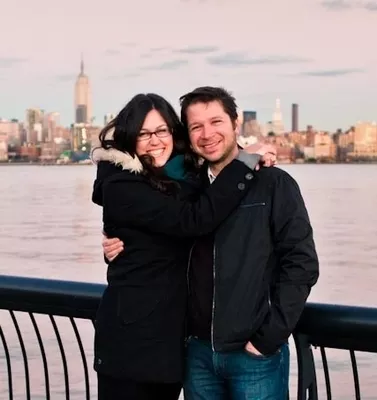 I fooled Christine into thinking an end of November trip to New York City was for her birthday (which was Friday the 26th). I was thinking I would pop the question Thursday after the Macy's Thanksgiving Parade but the weather was bad and we were both tired from an early flight so I procrastinated (sounds about right) 'til Saturday. It was a nice sunny day as we walked across Central Park to Strawberry Fields and while I was feeding chestnuts (bought from a hot dog vendor of course) to the squirrels, a troubadour was playing "Wagon Wheel" (one of her favourite songs) just over the hill so it would have taken a rank idiot not to recognize this as The Moment. I crouched down and reached into my bag for the ring and she asked, "What are you doing down there?" and crouched down beside me. So facing each other, I asked in a short and sweet way (to avoid last minute mess-ups) if she would marry me. Christine unflinchingly said "Yes!" (Whoop whoop!). We enjoyed the rest of the weekend in love in NYC, savouring engagement in the Big Apple and keeping it to ourselves until we returned home on Monday.
Early indications are an October 1st wedding.
*As told by Dave Hachey.