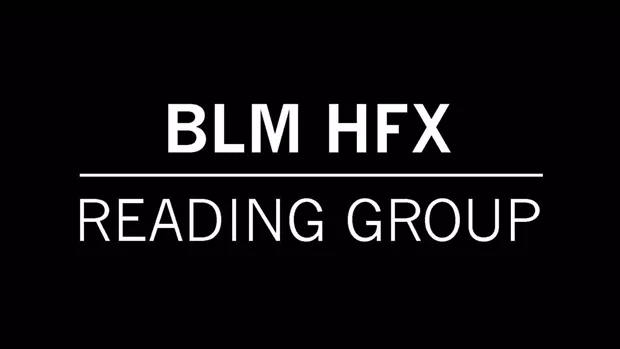 "Knowledge is power and I hope it gives them
courage
to speak up and really understand what solidarity means," says Shaya Ishaq.
Ishaq and Jade Byard Peek are behind Halifax's first Black Lives Matter reading group. The weekly gathering is free and meets every Wednesday evening at the Khyber Centre for the Arts.
"We have a mix of people who work in activist spaces, artist-run
centers
, galleries, and even at NSCAD as teachers," says Ishaq.
The idea comes from the
Black Lives Matter Syllabus
, compiled by NYU professor Frank Leon Roberts. Ishaq first saw the syllabus when it was being circulated back in the fall, and started doing readings on her own before she and Peek thought to co-facilitate a group.
Ishaq says they wanted to create a space that was "open to allies, as well as
BIPOC
[Black, Indigenous and persons of colour] folks, with the hopes of creating a balanced 
conversation."
The reading sessions have been inspiring for participants like musician Nathan Doucet.
"As a white man, coming to a group like this and a conversation like this, I just want to take what I've been learning and feeling, and put it back out into the world and to my very same demographic with force," says Doucet, who hopes to use what he's learning in the group to make an impact on the city's music community.
The syllabus' readings are free and accessible online to the public. It provides resources for teaching BLM in classroom and community settings. So far the Halifax group has read work from scholars like Audre Lorde and Cornel West.
Peek and Ishaq
have
also included readings and materials from the
Canadian version of the syllabus
, developed by Toronto lawyer and community activist Anthony Morgan, to highlight Canadian writers and history, as well.
"We know all of these big African American names, but I think it's also important to value the voices of the diaspora that are in Canada, too," says Ishaq. "A lot of our conversations end up
contextualizing
things that happen in Halifax and Canada."
Issues of prejudice, gentrification and racism have long existed in Nova Scotia, which Peek and Ishaq aim to discuss alongside readings. Last week the co-founder of the Black Lives Matter Toronto chapter, Pascale Diverlus, called in via Skype to talk to with members of the reading group, as part of their section on protesting. Diverlus talked about BLMTO's
mobilizing
efforts over the past year, which includes last March's
"tent city" protest
outside of police headquarters and their
sit-in at Toronto's Pride Parade
in July.
Last week, both
Halifax's
and
Toronto's
police departments announced they will not be participating in Pride parades this summer, in no small part due to the activism work of
BLMTO
and members of the
BIPOC
community in Halifax.
Doucet says hearing from someone like Diverlus made him
realize
that you have to start taking action "right away."
"It's all relevant that we're sitting here and talking, but if we don't feel emboldened to go off and do something similar to
BLMTO
, then why are we even here?"
Upcoming talks at the reading group will include former HRM poet laureate El Jones, who will be coming in at the end of the month to talk about the prison-industrial complex. For people not in the group who are interested in learning more, Ishaq says they'll be hosting a couple of events in March open to the public, and anyone can follow along with their readings at
blacklivesmattersyllabus.com
.
Ishaq says her hope is the knowledge the group imparts to activists and allies will have an impact beyond the classroom's walls.
"I hope that it doesn't just stay in this group, " she says, "but that it filters into their everyday lives."