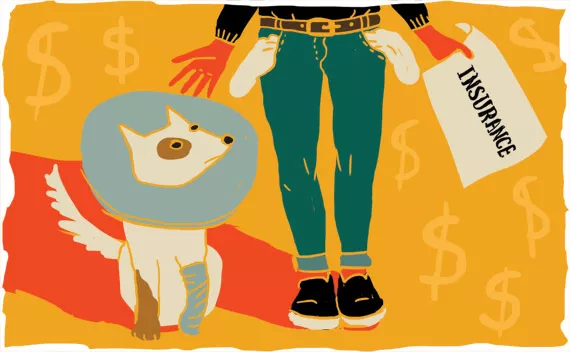 Those big wet eyes looking up at you, a sad little whimper that reminds you of all the special times you've had together. Your pet means so much to you. Which is why any rational thinking will often go out the window when it comes to saving your special buddy's life. Much like your own future health problems though, it's good to plan for these issues now, instead of in the hospital. Pet insurance is a popular choice for peace of mind, but be careful what you get for your dollar.
Depending on the procedure and issue, vet bills can costs thousands upon thousands of dollars. Pet insurance theoretically is there to help cover those costs, all for a small monthly premium that can range anywhere between $10 to over $100. Aside from the specialized providers, these days most large insurance companies offer a pet or animal option. Insurance has always been big business, and the rise of the pet insurance trend over the last decade has added a fat new market for companies with confusing contracts to take advantage of people's affections.
A 2011 comparison of major plans by Consumer Reports magazine found pet insurance plans almost always end up costing more than they pay out. Only in the rarest of cases, think unexpected major accidents, would the coverage pay out more than had been put into it.
Be wary as well of fine print around pre-existing conditions. Depending on the plan, your dog or cat might not be covered for any issues that existed before the insurance policy was purchased. Even chronic genetic issues, like the common hip dysplasia, will sometimes be excluded from coverage.
Instead, pet owners might want to forego the insurance option altogether and put aside some money for future emergencies. Throwing some dollars off into a high-interest account while your new baby is still a pup will help ensure any problems down the road don't break the bank.
If you do go the insurance route, treat it like any other major financial decision; read all the terms and conditions, compare competing plans and be aware of what's covered and what's not. Look at premiums, deductibles and especially the after-care coverage that will help nurse your little guy back to tip-top shape.
For life's unpredictable tragedies, like car accidents or eating poison, pet insurance can still be of benefit. But otherwise, be cautious and make sure your money isn't being wasted. You, and your pet, don't deserve to have your love be exploited for insurance company profit.