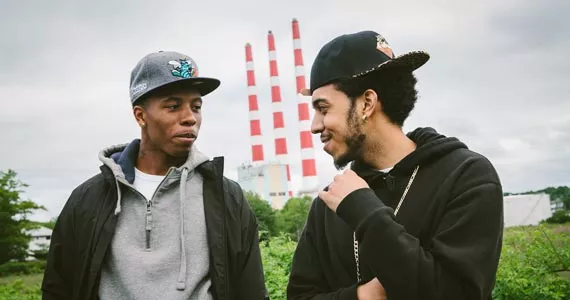 Psyc Tha Prince (AKA Devell Thompson) is cruising down Main Street in Dartmouth in a gold Jeep with family. His girlfriend, their one-week old baby Jace and his friend and musical collaborator RellzInYaGirl (AKA Dorelle Parsons, AKA Relly). The whole crew is headed to The Spaceship, which is their studio hangout in the basement of a cute house in Westphal---"This is where all the hard works goes down, where all the bangers come out," says Psyc. The house belongs to Thompson's mother and her partner, Thompson's stepdad, rapper and producer Peppah Gos. A ridiculously friendly pitbull greets everyone with kisses.
The Spaceship is the hub of Peppah Go MuZic, where Gos has been recording Thompson and Parsons (among others) since they were 14 years old. Psyc and Relly are in their element here, settling in on the couch, relaxing and lamenting the rainy day. They'd wanted to hang out in the neighbourhood for this interview, to give a better picture of where they come from.
Truthfully, considering how important family is to this crew, the house and studio say it all. Quiet and unassuming on the exterior but full of activity and creativity inside, the house is like Thompson and Parsons themselves.
Psyc and Relly make hip-hop music. Not music with elements of hip-hop, not an electronic-heavy amalgam---just real hip-hop music. The themes are as you'd figure. Weed figures heavily, stacks of money, booze, personal struggles, bad bitches. What makes Psyc and Relly stand out isn't only their youth---both men are 20---but their developed sound and indescribable musical magnetism. For example, before last January's Riff Raff show at the Palace, RellzInYaGirl talked the promoter into letting them on the bill. They were given time for one song each. Undefeated, Psyc and Rellz got on stage, mobbed out and blew the audience away with their set. That ability to make a relatively uninterested audience sit up and pay attention with only two songs shouldn't be underestimated in a hip-hop scene like ours.
"I wouldn't say there's no competition," says Psyc. "Honestly there is, we see them and it's all love, but at the end of the day it is competition. Everyone wants to be the hometown hero. I want to say I did it for Nova Scotia, just like Jay Mayne wants to say he did it for Nova Scotia, just like Quake, everybody."
"Everybody's just trying to put Scotia on the map," says Rellz.
Gos has a different view of the local scene, having moved from Chicago to Dartmouth six years ago after meeting Psyc's mother. "Coming from Chicago to Halifax, I think it's like the baby stages of hip-hop here. Where I come from you have two, three different crews on the same block doing the same thing," Gos says. "And when I say competition, it's competition. Sometimes healthy, but sometimes...you know." Gos is referring to Chicago's shocking murder rate. By the end of 2012, Chicago saw 532 murders, four times that of New York. It's no wonder he prefers the support of both family and peers in our humble scene. Psyc, Rellz and Gos all do this for the love of it. There are no piles of money rolling in---yet, Gos would add---but they get something much more valuable.
"Money isn't the issue," says Psyc. "I love doing shows, but if I'm not getting paid, I'm still promoting myself. I'm still doing something that matters."
Music is their outlet. Rellz works at Kent during the day and plays a lot of basketball. Psyc has a bit less time on his hands these days with a newborn. "With me it's just the music and the baby. I'm going back to school possibly for music or an electrician program," he says. "Mostly I'm chilling with the little homie, I'm swagging him up, getting the Jordan collection poppin'."
"You gotta start early," says Rellz. "He'll turn into a sneakerhead."
Peppah Gos has clearly been an important influence in their lives. From recording them, producing their tracks, encouraging them to make their own beats, booking tours and talking to other beat makers and producers like 2 Chainz' producer Big Hurt, he works tirelessly for the two. "I'm like the Wizard of Oz, I just sit in the back," Gos says. "I'm doing things for them, but I'm just happy that they're doing things for themselves." Though technically they began making music around age 14, this past year has been their breakout. They had an earlier incarnation with rapper Brave as the GetItBoyzzz that had them opening on a tour with Jordan Croucher and racking up the MySpace hits. They've branched out on their own, but they are still very much a unit. Rellz and Psyc appear on each others' tracks frequently, collaborate on mixtapes and are moving forward together as they undertake their debut albums.
It's not something they would have been able to do if not for the encouragement of their peers and the confidence boost of their successes so far. RellzInYaGirl's heart-wrenching "Worst For Me" (featuring Brave) is nearing 20,000 views on YouTube. The song and video are a tribute to Stacey Adams, Thompson and Parsons' friend who was murdered at age 20. While normally they pump out the bangers and club hits, Relly gets personal here, divulging details about his absentee dad and trying to overcome negative circumstances. Brave sings the chorus: "They just want the worst for me/But I'ma make this rap shit work for me." Psyc's "Rollin, Writin, Rappin" single is nearly at the 13,000 view mark. Directed by Andru Winter, the video features a quintessential scene of home---the donair shop---and a cameo from Kaleb Simmonds.
Midway through our interview Simmonds joins the crew in The Spaceship, carrying a gym bag. He sits, quietly smoking as Psyc and Relly discuss the support they've gotten from the community. "Can I say something?" Simmonds asks. "I was the second generation of the hip-hop music scene in Halifax, I was playing shows twice a week, I saw the whole scene coming up. I did Canadian Idol and I moved away but I always had my ear on here. Everything I heard was mediocre in terms of sound or quality of character of the person making the music. I was in Ontario surrounded by these developed artists. They go to school in the studio, they're well seasoned. But I met these guys and they pretty much gave me hope. I was like, "Finally someone gets it.'"
Simmonds doesn't stand alone in thinking so. A show at Oasis in 2012 effectively introduced Psyc and Rellz to the rap community. "I remember we did 'Hoody' for the first time, and we all came out wearing black hoodies. That was when I met Jay [Mayne] and Cam [Smith] for the first time. They liked it 'cause we really mobbed out, Jay said we were really holding it down for Dartmouth."
For Parsons and Thompson, any accomplishment is still an accomplishment and their positivity is infectious.
"I really want to build a bigger fan base. Hopefully I can get a Grammy," Parsons says, laughing.
"I'm going to call it right now, by this time next year I want to have one new album and three new mixtapes," says Thompson.
"I want every promoter to come looking for us---I don't want to always go looking for them," says Parsons.
They've been working on tracks continuously trying to perfect their craft.
"They're trying to make sure they're doing fighting numbers with Drake or Meek Mill---it has to be presented on a global scale," says Simmonds. "It's good to be local but you have to present it globally. We have that quality music in Nova Scotia and in Canada. Drake made it possible---not so much Justin Bieber."
"Man, I still fuck with Justin Bieber though," says Psyc, laughing.
"Oh yeah, Justin is the best," says Simmonds.
Bieber fever aside, local is where their hearts are. "I'm sick of people thinking, 'ehh, Nova Scotia'," says Psyc. "There's people here making moves. Don't overlook us."
"I love my girl," says Gos, "but I fell in love with Nova Scotia too. There's the same calibre talent here as there [in the United States]."
"We're not slowing down, we're slowly working," says Relly.
"I've said it before, you gotta make a name for yourself in your hometown or else who will care about you?" asks Psyc. "If the people who know you don't care, how can anyone else?"
ReelLifeFam presents: ReelHeat w/Psyc Tha Prince, RellzInYaGirl, Weirdo Click, Thrillah, T Bear, Friday, June 14, 10pm, Mexicali Rosa's, 5472 Spring Garden, $10