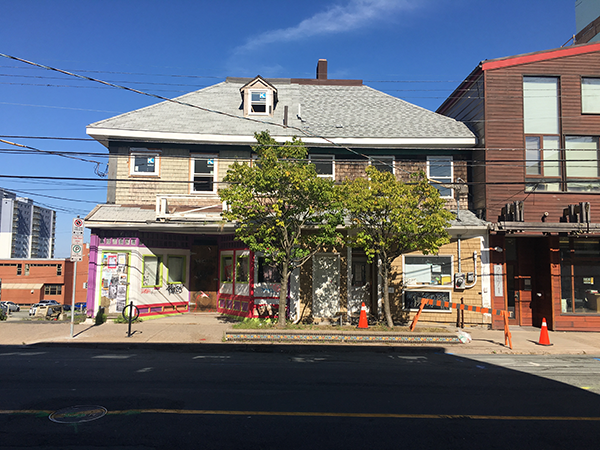 Some places are so special, an entire community forms around it. Radstorm is one of these places. A volunteer-run, not-for- profit all-ages community space, Radstorm has hosted wild and wonderful music, comedy, art and activist events—highlighting queer and youth-centred creative programs—for the past 15 years. Its resources include over 7000 zines in the Anchor Archive Zine Library on-site, a screen printing collective, free meals, a kiln, rehearsal spaces, a live music venue, an artist-in-residency program, a digital projector, projector screens, button maker, sewing machines and a rug-hooking frame. It's a community hub, a defiant vestige of DIY ethos in a rapidly gentrifying North End.
Radstorm has a chance to buy the building it occupies at 2177 Gottingen Street, but it can't be done without community support.
Radstorm moved from Almon Street last year, and had existed in various forms and locations before that. A permanent space to put down roots would offer it a chance to focus on the community, rather then where it'll set up next. The group's fundraising campaign has been pushing since September 4, with an immediate goal of raising $50,000 to supplement a hefty down payment of $135,000, as first-time buyers of a commercial building.
With grants, community investors, a mortgage and a bustling fundraising campaign, members hope to do it.
"The idea of having a permanent space means the world to us," says Katy Curwin, Radstorm volunteer and fundraising committee member. Curwin says Radstorm is "a place where there's no limit to what you can do, as long as it fits within our community standards. From toddlers to seniors, we strive to be an accessible space for all. We are a dry space—you don't necessarily need to be sober to attend events at Radstorm, but there are no drugs or alcohol allowed on site. For some people having a place to attend a show without being confronted with alcohol is really meaningful."
There are many ways to contribute via Patreon (patreon.com/user?u=16355635), or via Fundrazr (fundrazr.com/radstormforever), each with perks like a dinner for two, mixtapes, merch and more. Folks can also contribute by attending fundraising events like shows, a dinner, or an open house. The campaign runs to October 31, closing with a Halloween costume party event.
"Radstorm is important to the city of Halifax in general as it is a stepping stone for so many artists and musicians (especially young people) to meet people, create amazing art, and feel involved in a community space," says Capp Larsen, longtime Radstorm volunteer and fundraising committee member. "This is a pivotal moment for the people of Halifax to support and invest in community spaces. If we don't seize these opportunities for non-profit arts spaces to own our own buildings now, the opportunity will be lost and development will continue without us. This is a really exciting moment for Halifax and I hope people can see the incredible potential here and support all the very hard grassroots work that non-profit arts groups are doing to secure permanent spaces for us all to benefit from for years to come."