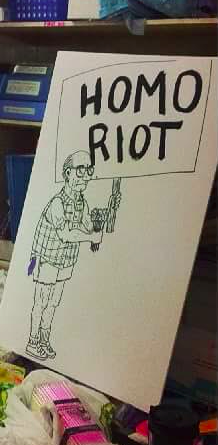 We love pride week so much it brings little rainbow hearts to our eyes. But while it's easy to get caught up in celebrating the beauty of love and wearing multi-coloured things, Rad Pride, an "alternative, political queer pride" organization, is quick to remind us all one key thing:  "The first pride parade was a riot."
In an attempt to keep the activist spirit of pride's roots alive, Rad Pride has put together a schedule full of events that highlight modern issues for the LGBTQ+ community. All events are free and sober, and Rad Pride promises they'll be "creative, fun, social and critical."
Here are the top four marked on our calendars:
Rock Camp for Queers showcase and queeraoke
Musicians at various levels, grouped into bands based off a lottery system, showcase the jams they've come up with in the past month of playing together and attending workshops. With the performers bringing original songs and a DIY feel, this could be the chance for audiences to spot some new talent!
Halifax North Memorial Library, Sat July 16, 8:30pm.
Queer and Trans' writers and performers circle
This facilitated discussion aims to tackle how LGBTQ+ people can use art to explore themselves and their stories, as well as fight oppression and challenge common narratives. Creative types are encouraged to bring along their projects (from poetry to paintings) to share.
Just Us! Coffee House, Spring Garden Rd, Sun Jul 17, 1-4pm.
Beyond asexuality 101
What exactly does it mean to be aromantic or asexual? How do you know if the title might apply to you? At this workshop, you can have your questions about this under-represented part of the LGBTQ+ spectrum answered.
Dalhousie University Student Union building, Jul 19, 1:30-3pm
Halifax Dyke and Trans* march
Before you get the wrong idea, Rad Pride's facebook page warns this "is a political protest and not a parade." Get your chants and signs ready for this opportunity for lesbians and trans* people, as well as their supporters and allies, to take to the streets and remind us all about the marginalization, exclusion and prejudice these groups face.
Halifax Central Library, Jul 22, 6-8:30pm