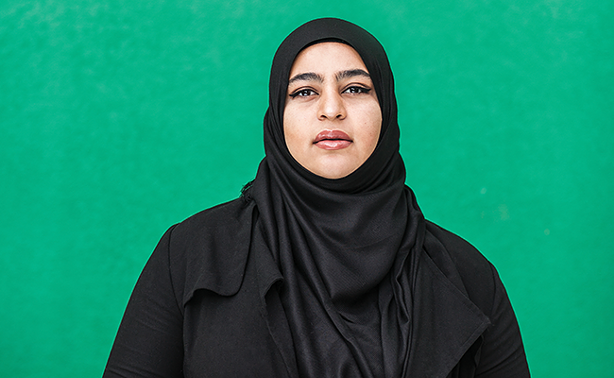 A battle over the notion of reverse racism in student politics is unfolding at Dalhousie University.
Student union member Masuma Khan is now facing discipline from the university after calls to remove her from her elected position over comments posted on Facebook in the lead up to Canada 150.
In the social media post, Khan, a Muslim woman of colour,
called on the university to stand with its Indigenous students
by cancelling any celebrations planned to mark the date. She also shot back at those who had criticized Dal's student union for adopting a motion to opt out of any potential Canada 150 events on campus.
"At this point…f*** you all," Khan wrote, along with "#whitefragilitycankissmyass."
The university is alleging Khan breached the student code of conduct in her comments.
"No student shall engage in unwelcome or persistent conduct that the student knows, or ought to reasonably know, would cause another person to feel demeaned, intimidated, or harassed," reads the handbook on student behaviour.
Fellow student union member Mary MacDonald put forward a motion at a DSU meeting in late September seeking Khan's removal from
council
, along with her $32,000
honourarium
. MacDonald said Khan's letter had elements of "vulgarity and childishness" and that her post showed "defiance and contempt for the perspective of others." Should Khan go unpunished, MacDonald warned, she'll only continue to speak out in this way.
For her part, Khan admits she could have toned down the language in her post—which
she says she was pressured to delete
—but asks, why the onus should be on her.
"Why do I constantly have to validate my right to free speech?" questions Khan.
MacDonald's motion failed in September, but Khan isn't yet in the clear.
Her Facebook post
garnered national press
from the likes of
prominent columnist Christie Blatchford
, who bemoaned Khan's "Canada shaming" in the
National Post
. Formal complaints were filed with the university and an investigation by the vice provost of student studies, Arig Al-Shaibah, has been kicked up to the Senate Discipline Committee for a hearing later this fall.
This formal complaint process from people upset about her comments on "white fragility" pinpoints a fundamental failure of understanding, Khan says.
"Racism doesn't work in the reverse," she declares, leading her to another question:
"Who exactly has the power in these systems?"
Most cases handled by the Discipline Committee involve allegations of plagiarism and the like.
Khan says the Senate's ruling in her case will reveal a lot about Dalhousie as an institution.
"For me, it will show what the university thinks. What's the panel gonna look like? If it's all-white deciding whether this is 'reverse racism,' that is an issue."
Meanwhile, Khan says the question of her conduct is distracting from the very issue she was trying to highlight from the start.
"Why aren't we focusing on Indigenous issues? Why are we still talking about me?"