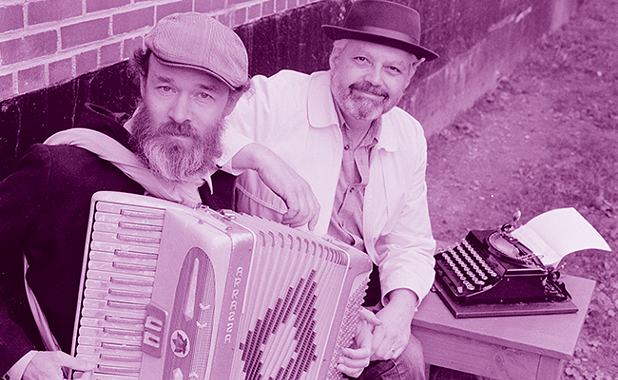 Since
Kamp
began its readings and workshop performances in 2015, much of its buzz and accolades surrounded the cast, which has been a showcase for many local queer performers who audiences have never seen on stage.
"I remember someone asking me who all these people were," says Garry Williams, co-creator, with Jamie Bradley, of the musical about a barrack of gay men in a Nazi concentration camp. "There are not so many opportunities for queer-identified, or identifiable, performers. In my vision originally, I imagined
Kamp
as a vehicle for people who otherwise might not be cast in musicals or plays because so few roles are written for a variety of queer characters."
In October,
Kamp
will have its premiere with Eastern Front Theatre under the direction of Sam Rosenthal, the company's new artistic director. While the majority of the cast is queer-identified, there is a notable lack of representation of local LGBTQ+ artists and the local community at large.
This week, two roles were recast to include two local actors who have been a part of
Kamp
's previous workshops. Otherwise, of the cast is made up of musical theatre professionals from Toronto, and Rosenthal himself is a straight man from Toronto. Which is to say, EFT's production of
Kamp
has its sights set on mainstream appeal, causing the play's co-creator to worry that a story of queer erasure is itself being straight-washed.
"It is true in 2018 that I doubt you would hire a male director to direct
Top Girls
[by Caryl Churchill]," says Williams, "and I doubt you would hire a white director to direct
The Color Purple
. I wonder why in the wave of giving power back to artists and communities that have long been silenced and whose stories have been long appropriated, the queer community seems to be outside of that trend and outside of that gaze."
"I've come to this process in a new community with an open heart," says Rosenthal. "I worry that we're becoming a society of telling people what they can and cannot do. We are artists. I thought that was a level playing field where people respect each other and we have each other's backs to tell this beautiful story. I know it's a story about gay men, but it's about gay men in the Holocaust. As a proud Jewish man, I have to say that EFT is fortunate that I am Jewish. That's a story we are also telling. I'm not queer but I've experienced 
life."
In 2015, Williams and Bradley began hosting readings of early drafts of
Kamp
. Early on, a revolving door of queer artists became involved, leaving their footprint on the project in some way. Many of these artists were associated with DaPoPo Theatre, a daring, often queer theatre company of which Williams is currently the artistic director.
"Initially, we shared the excitement about the possibilities of, for example, auditioning drag performers rather than musical theatre artists and to think of unconventional casting that way," he says. "And perhaps favouring lay-performers in terms of musical theatre expertise, because they would bring a different expertise."
When the endeavour of inclusivity is pitted against marketability—namely the appeal to straight white audiences—the choice for many is an obvious one.
"I suspect that homophobia around this runs deep," says Williams, about
Kamp
. "My own sad fear is that there are a lot of people who will not want to see a production with and about identifiably queer people."
At a time when we are chipping away at the theatrical institution that has been dominated by certain people, who tell stories in certain ways, Williams says that learning to read queerness in stories is another important challenge.
Whether that's how
Kamp
will be received remains to be seen, but Williams is optimistic.
"I think it will all depend on whether people see the show and recognize themselves in it," he says. "If this production of
Kamp
manages to tell the story in a way that the queer community here and elsewhere says, 'Yes, I recognize that. That is me,' it will be a beautiful, inclusive, celebratory experience."