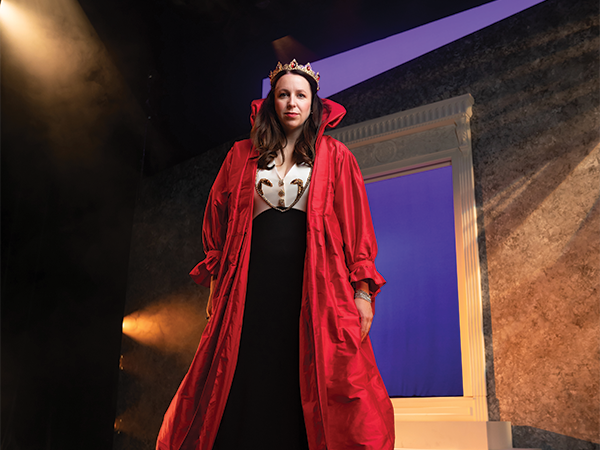 The Last Wife
Oct 3-4, 7:30pm; Oct 5-6, 2pm & 7:30pm
Neptune Theatre, 1593 Argyle Street
tickets from $30
---
There's a scene in Neptune's season-opening play, The Last Wife, where Stephanie MacDonald stands, tall and square, trying to not burst out laughing. The play, written by notable playwright Kate Hennig, imagines the interior life of Catherine Parr, King Henry VIII's final spouse. It has landed at Neptune to show, as MacDonald puts it later, speaking by phone, "a woman, given her circumstances and her influence and her proximity to power, relentlessly pushing for change."
But right now, on opening night, a smile blooms around the corners of her mouth as Jodee Richardson—playing her king and husband—is the comic foil to her straight man. While gazes should be on him, flopping around the stage and providing levity to a heavy scene, it feels impossible to peel the roomful of eyes away from MacDonald. Her mirth continues to wrestle around her dimples. Would Parr have ever laughed at the king like this?
"It's been a super challenging role—it's not every day you get to play a queen, especially an actor like myself. Natasha"—that's Natasha MacLellan, the director—"when she approached me I was like 'me? what? no, what?'" MacDonald says, her breath whooshing through the phone line like she's getting the news for the first time all over again. "I usually play the Maritime-y, down to earth, complicated character—but since that's kind of my hit, there's something in the resiliency of those characters that's not far off from going up against a mountain of power. There's something very pillar-like in all those people as well.
"It's a beast of a play, I'll tell you that right now," MacDonald adds. The tight, complicated dance between Parr and the king feels at times like a tango and at times like a boxing match. MacDonald and Richardson both manage to walk this knife-edge perfectly, the change in temperature rocking them as much as the audience itself. As Parr navigates claiming a foothold in both the castle and the kingdom, MacDonald's shoulder never leaves the boulder of progress being pushed up the plot line's hill.
"The thing that helped a lot was visuals of her. She has this calm fierceness that kind of resonated...Some scenes flash around me super quickly, but she's just slow and steady going forward—sometimes she gets knocked around a little bit. There was something about the images where I was like 'oh, maybe theres something to that unbroken, razor-sharp gaze,'" MacDonald says, adding she researched the role for months by plowing through dense historical texts and documentaries.
The play isn't a period piece, MacDonald says. "If you want a Wikipedia of the Tudors, there's things that can do that. But, what we need to do is have you be like 'Oh my god, can you imagine being that close to power and doing that tactic?'"
She continues: "To see yourself in it like, 'oh, this person is a queen but I use that tactic,' and you see yourself in these people: That's what it's about."
And in this, MacDonald shows why Parr could only be played by her, why she's won so many Robert Merritt Awards, why her recent nomination for a Dora Award (AKA the Tonys of the Toronto theatre scene) shouldn't be a surprise. "I moved to Toronto for about two years and wasn't getting any work—this was about 10 years ago—so I made the big decision to move back, and the community here has been incredible and I've had a lot of support," she says. "Being nominated in Toronto, a city I desperately wanted to 'make it in,' to be able to be recognized by that community for a Cape Breton character that's a complicated woman, it was huge to me."
To MacDonald, it's all about the audience—the same group who can't look away from her: "It can't happen without the audience, we have to be in agreement about this thing and I think that's really lovely. I'm constantly thinking about how can I help them at this moment, [to] think about what this moment is and how they should feel about it—or how I want them to feel about it, or how can I help bring them into the story—I'm constantly thinking about them, constantly."