Before playing a cross-Canadian tour kick-off show this Thursday, May 28 at Menz & Mollyz Bar with Quaker Parents, Harley Alexander and the Universal Lovers and Municipality ($6, 9pm), Mauno's Nick Everett takes a break from writing chill pop tunes to answer a few questions. But he doesn't reveal too much though, mystery is important.
Q: Can you give me a brief history of the band? 
A: Mauno started in September and since then we've toured the Maritimes and to Toronto a handful of times, most notably on separate tours with Vulva Culture and Omhouse. I've been writing these songs for a couple of years and brought Eliza Niemi and Evan Matthews on to help me finish them.
Q: Where is this tour taking you? Two months is a long time for Canada, it'll be a nice pace, I bet.
A: We're going as far as Victoria, meeting Gianna Lauren in Calgary and playing as her band through BC and then back east. We're taking so long because we're not just traveling as Mauno—between the four of us we have four projects (Gianna Lauren, Mauno, Nick Everett solo and Eliza Niemi solo.  That way we can use less gas, play a few shows, and hang out in a city for a little longer.
Q: Do you have more recordings planned?
A: We do. We're on the verge of finishing a new album and we'll have a single out for the start of our tour.  We recorded it here in Evan's basement (where Vulva Culture did their "Where we practice" thing) and at Drones (Mike Wright/Haligon diaspora's space) in Montreal. We've been mixing with our friend Alex Sheppard who teaches at OIART in Ontario. We'll be releasing it in August through Canadian and American labels that we can't yet disclose.  
Q: Are you all planning on staying in Halifax for the forseeable future?
  A: Our tour is spanning the entire summer and into September. Going west and back June and July, Ontario and the Maritimes (Newfoundland inclusive) in August, and then over the pond in September to play with Gianna and as Mauno.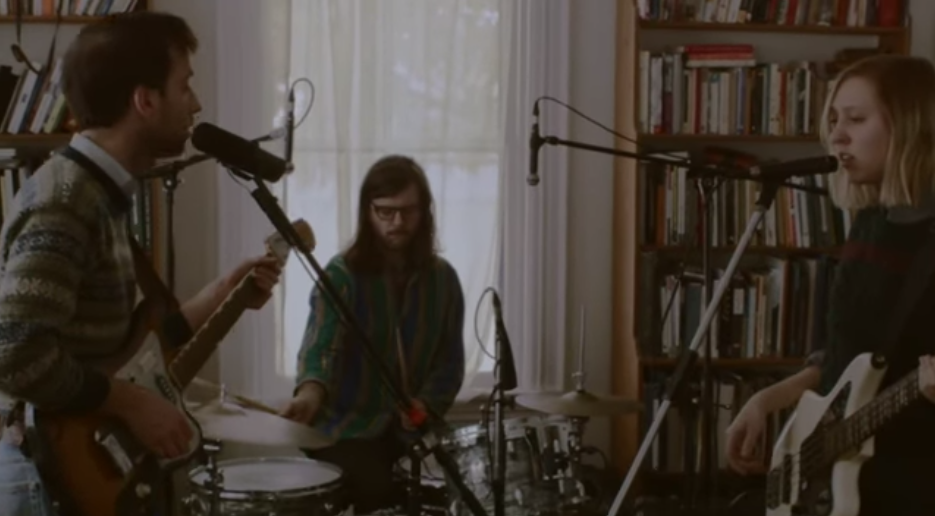 Q: How is the songwriting split up? Does someone bring a song to the table finished and everyone fleshes it out? What inspires the lyrics? Do you keep a notebook? 
A: We write as most bands write—snippets turned into full songs. Anyone brings something forward and we flesh it out. We're currently working on two new songs for tour, one where Evan wrote the guitar part, Nick the vocals, and then as a band we made it a real song.  
Q: Can you tell me how you settled on the name? 
A: Mauno is Eliza's grandfather's name. It's a really common Finnish name—kind of like John or Mike. We settled on it because we liked the sound of the word but there's a better story. While Mauno's dad, Albert (Eliza's great-grandfather) was very musical, Mauno wasn't. Albert had a huge influence on Eliza's father, Art, so it seems to have skipped Mauno entirely. We see our using the name Mauno as a reclaiming of Mauno's understandable frustration toward music, reclaiming his name as the missing link. Also, it's pronounced Mao-No.